You are not going to the Super Bowl. You are not a corporate sponsor or a Bruno Mars roadie or the guy who polishes the Snoopy sculpture outside of MetLife Stadium, so you can absorb this news as an abstraction: the NFL is majorly jacking up the prices of the best seats for its first cold-weather Super Bowl, and making it harder for the people with "cheap" tickets to re-sell them.
The Wall Street Journal reports that the prices for the most expensive tickets for Super Bowl XLVIII—the club seats, of which the stadium has more than 9,000—will more be than double last year's best seats, $2,600 up from $1,250. The lower bowl seats will rise to $1,500. It's a big jump from the usual steady upward trend, and it's not just because everything in New York is more expensive. It's all because of scalping.
"We are looking to close the gap between the face value of the ticket and the true value of a ticket to what has become the premier sports and entertainment event," he said.
What he's saying, once you translate it from Newspeak, is that a tiny proportion of face-value tickets even go to fans in the first place. Most go to disinterested corporate partners, and many of those are sold for many times their face value on the secondary market. Why should some asshole Verizon VP profit from selling his ticket for true market value when the NFL can do it first?
The worst seats in the house are actually getting slightly cheaper. (Below you can see the NFL's internal comparison chart between this year and last.) But again, measures will be taken to thwart fans from selling their tickets.
G/O Media may get a commission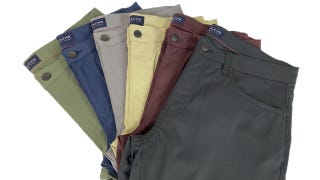 JACHS NY Fall Stretch Tech Pants
As usual, the corners in the upper bowl will be distributed to fans of the two participating teams, distributed by a random lottery. But according to the New York Post, those fans won't receive their tickets ahead of time. For the first time they'll have to pick up their tickets at the stadium on gameday, after going through security—and won't be allowed back outside.