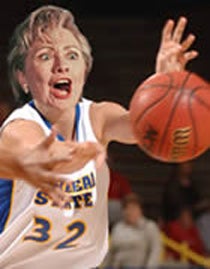 On Wednesday night the three Presidential candidates were asked who they thought would win the NCAA Basketball Tournament, and their answers were completely predictable. Barack Obama: North Carolina. Hillary Clinton: Would not commit, pending polling results. John McCain: Mistakenly filled out room service menu instead of bracket.
McCain's bracket was to be unveiled on his Web site today before the tournament tips off at noon. Democratic candidate Hillary Clinton, when asked about her picks for the Final Four teams, deferred to the most famous graduate of Georgetown University, whose highly ranked Hoyas are playing tomorrow. ``Oh gosh, I don't know,'' she said at a campaign stop in Lancaster, Pennsylvania, on March 18. ``I have to consult with my basketball adviser, my husband.'' Matt McKenna, a spokesman for the former president, said, ``We're going to pass.'' Obama's choice of North Carolina, the tournament favorite, won't hurt him in that state's May 6 primary.
McCain, whom aides said "was still working on his brackets" last night in London (translation: "Zzzzzzzz ...") has his own online NCAA tournament pool, as we mentioned on Tuesday. You can't win actual money, but you can win McCain goodies; including the McCain fleece. But you only get it if you pick Arizona to reach the Final Four.
March Madness: McCain Ponders, Clinton Passes, Obama Picks UNC [Bloomberg.com]
John McCain NCAA Pool