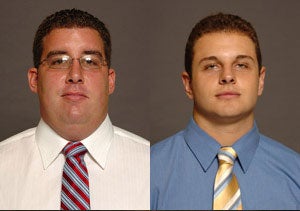 This is not a road trip story you want to brag about. Two college assistants attending the American Football Coaches Association convention are in the hospital after they fell out a fourth-story hotel window.
The two coaches, Scott Coy and Darren DeMeio from Westminster College in Pennsylvania, were apparently wrestling in their room in the "pre-dawn" hours on Tuesday, when they crashed through a "double-paned [window] with a strong wooden sash in the middle." Coy—who is 6'2" and 300 pounds—is in critical condition, but I guess they're lucky to even be alive. When they say "no rough housing" they mean it!
Next time, just throw a couch out the window like a normal hotel guest. Or better yet, beat up a bell hop in the lobby.