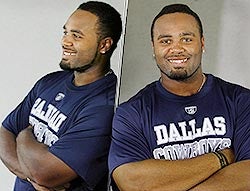 Another member of America's Team runs afoul of the law after a long night out.
Cowboys linebacker Anthony Spencer was arrested outside a Fort Wayne, Indiana night club early Sunday morning after he and a friend tried to bribe the bouncers to keep the club open past the 3 a.m. curfew. The club refused, and then Spencer and his cohort "threw punches at the bouncers, pounded on the exit doors and shouted at bar staff, police said." Police also said that Spencer had all the tell-tale signs of shit-facedness and, once he was he threatened with arrest, told officers "Who cares? Go ahead."
The Cowboys told the paper they are aware of the situation, but are awaiting the full story before they comment.
We've seen time and time again that the Cowboys rarely do anything to discipline their players and love to embrace those with troubled pasts, so Spencer probably does not fear the wrath of Jerry Jones. But Spencer's mother, Tonia Creech, probably won't be too happy with her boy's behavior. From a 2007 DMN article, we find that the hard-working mother of four thinks too highly of her son for this nonsense:
"It's like I tell people: He's a pit bull on the field but a poodle off it," she said. "I've always told Anthony that if you have animosity toward people, show it on the field. Don't show it anywhere else. You represent our family. I've worked too hard to get where we are."
Yeah, I bet Anthony got a shoe to the head for this one.

Dallas Cowboys Linebacker Spencer Arrested [Dallas Morning News]