In a bold frontal attack that makes Pickett's charge look like a game of Red Rover and the Normandy Invasion seem like a visit from the grandparents, ABC will storm NBC's programming fortress on Super Bowl Sunday with the intent of stealing ever viewer possible. Their weapon? The obstacle course shenanigans of Wipeout. Oh yes, there will be blood.
ABC will air a brief football-themed Wipeout special opposite NBC's Super Bowl halftime show featuring Bruce Springsteen, and then come in with a full episode of Wipeout during NBC's showing of The Office right after the Super Bowl. That Wipeout will feature cheerleaders competing against male "couch potato" fans.
The two-part ABC special — dubbed "Wipeout Superball Sunday" — pulls out all the stops to cater to NFL fans: Hall of Famer Michael Irving will lend sideline commentary, the Navy's Blue Angels will perform a flyover, the USC marching band will storm the course, contestants will run a gantlet with quarterbacks pelting them with footballs, NFL luminaries will stop by the commentary booth, and the show's signature Big Balls obstacle has been converted into jumbo-sized footballs.
Hopefully these are Live Feed's misspellings; it's hard to believe that the NFL would think that "Michael Irving" would be running the "gantlet."
It's the first time in five years that a network has attempted to seriously compete against Super Bowl programming.
In 2002, NBC enjoyed some of Fox's big game thunder by airing a special episode of the Endemol-produced "Fear Factor" featuring Playboy Playmates as contestants during halftime. "Fear Factor" siphoned off 11.4 million viewers. The family-friendly "Wipeout" could attract even more.
G/O Media may get a commission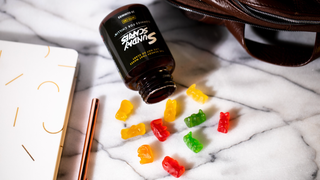 10mg CBD Gummies (22-Count)
Of course all of this will pale in comparison to the ratings garnered by next week's Plaxico Burress Christmas Special.
ABC To 'Wipeout' The Super Bowl [The Live Feed]