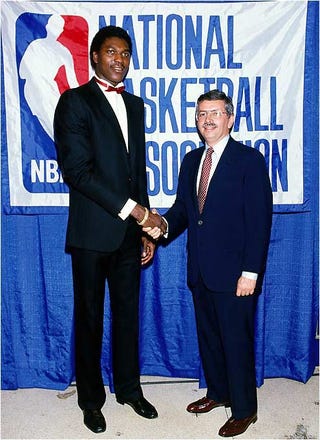 The NFL Draft might be for the obsessives, but the NBA Draft is for fans who just want to watch a good show. We've mentioned this before, but we think the NBA Draft, with the recognizable names, outstanding outfit and vague sense of looming David Stern menace, is infinitely more entertaining than the interminable NFL Draft.
Now that we've had our first trade, we're all set to have some fun. We are still crossing our fingers that the Knicks will take Big Cock Gallinari, and that Eric Gordon — BOO! ERIC GORDON! BOO! — drops all the way to the second round.
Anyway, our own Bethlehem Shoals from Free Darko will be live blogging the draft for us tonight. We remind you of last year's endeavor, in which he described Joakim Noah as looking like "EVERY SINGLE BATMAN VILLAIN ROLLED UP INTO ONE." Yep. That'll be fun.