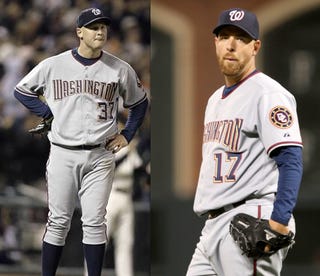 Would a player intentionally suck to become a part of history? The pitcher who let Barry Bonds set the HR mark says no; his teammate says yes. Join us this week, on As The Nationals Turn.
You all recall Mike Bacsik. No? He was the guy who gave up Barry Bonds's 756th home run in 2007, and then never sniffed the big leagues again. Tim Redding was his teammate in Washington, and thinks those pitches to Bonds were a little too good.
You know, I don't like to speak ill of people...Mike was a nice guy and a good teammate....but Mike wanted to give up that HR. I was charting pitches that night for my start the next day and it was super obvious that he wanted to give it up. Everything to Bonds was low 80's and center cut. I think Mike had some notion that if he gave it up, he could be part of history and make a few dollars out of it one day.
Pretty heady accusations, coming from a man who was non-tendered by the Nationals. Bacsik responded today:

Refreshingly honest. We like that around here. Bacsik took a shot at Redding, and like so few of his pitches, he hit his spot:

Mike Bacsik Grooved It [Capitol Punishment]
Bacsik and Redding should settle this feud with a steel cage match [Nationals Enquirer]