The NHL Closer is written by Greg Wyshynski, of FanHouse and The Fourth Period. He is also the author of Glow Pucks And 10-Cent Beer.
Jokic? Embiid? The NBA MVP is obvious... right? | Keep it a Buck(et)
Goaltending is like a night at the roulette table: You win some, you lose some, but in the end it's fickle fate that determines whether you break the bank or end up trading sexual favors for bus fare in the bathroom of a budget buffet down the street (like we all haven't been there before). Luck was a lady for goalies like Antero Niittymaki and Fredrik Norrena last night, and a cruel mistress for others like Ilya Bryzgalov and Ty Conklin. And then there was Vesa Toskala of the Leafs, who helped Toronto continue "Operation: Cock-Tease" with 27 saves in a 3-1 win over the Islanders — while allowing one of the most embarrassing goals in the history of televised hockey.
It was scoreless in the first period and the Leafs were on the power play. Bryan McCabe — and it's rather hilarious he had a hand in this debacle — coughed up the puck to Islanders defenseman Rob Davison deep in the zone. What happened next drew a "Holy Macinaw!" from the Toronto broadcasters (video) and "talk about a bad infield!" from the MSG crew (more video): The puck bounced about six times, Toskala tried to play it with his glove, and it bounced right past him for a goal that's been estimated between 178-190 feet by media accounts. This is by far the most douche-chilling angle I've seen, from Toskala's perspective:
The Islanders fans chanted "Hey, You Suck!" and McCabe skated over to offer some advice on being an international punchline the morning after. But if you stuck with the video, you may have noticed Toskala also saved the game for the Leafs late in the third by stoning Mr. Hilary Duff from the slot. Which kept the Leafs' improbable playoff hopes alive, and kept Toskala in good spirits in the postgame: "I was laughing. I mean, that was my buddy from San Jose who scored. And he doesn't really score a lot," he told the Toronto Sun. "Hey, shit happens. What are you going to do?" Indeed...as Pension Plan Puppets notes, he's not exactly alone.



For the Islanders, Kyle Okposo made his debut as a 19-year-old to some fanfare, Rick DiPietro is toast and will have hip surgery for the second time during his 15-year contract, and I'm beginning to have serious doubts about their postseason chances. Yet the Nassau Coliseum remains the place to be and be seen; hey, isn't that Christie Brinkley wearing Mike Bossy's varsity jacket and Hollywood icon Eric Murphy, who produced Billy Walsh's epic film "Medellin?"
G/O Media may get a commission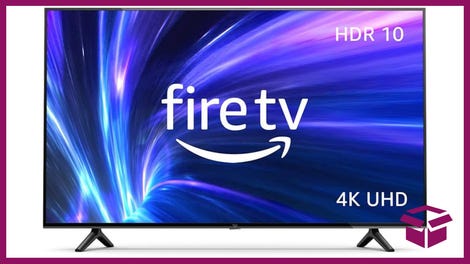 42% Off
Amazon Fire TV 50" 4K Smart TV
More Goalie Nuttiness. It really was a bat-shit crazy night between the pipes. ConkBlock morphed back into ConkSuck at MSG, as his defense started playing for the other team and he gave up perhaps the biggest rebound at the Garden since Patrick Ewing retired in a 5-2 loss to the Rangers. Sean Avery scored two goals and heard the home crowd chant "Re-sign Avery." I'm pretty sure you couldn't find a more loathsome line than the one featuring Avery and Jagr; you'd pretty much have to put Heather Mills on the Rev. Jeremiah Wright's wing. (Ooooh, topical.)
In Nashville, Dan Ellis gave up three goals on eight shots before getting yanked in Washington's 4-2 victory. Ovechkin went over 100 points, and scored his 58th goal of the season with a 160-foot bank-shot off the boards into an empty net. "It was the luckiest score ever," he said after the game, before he looked up "Vesa Toskala" on YouTube and shit his pants. Meanwhile in Edmonton's 8-4 win over Phoenix, Bryzgalov was just fucking awful: Three goals on 11 shots in a must-win game for the Coyotes' playoff hopes. I don't want to say the Oilers own his ass, but a tattoo on his left buttock features Kevin Lowe pointing to last night's box score under the words, "Who's Yer Daddy?"
But it wasn't all terrible luck for the net minders last night. Fredrik Norrena got some help from the posts and shut out the Flames, 3-0, in a game that de-evolved into fugliness near the end — check out Robin Regehr's check from behind that led to a Jared Boll/Craig Conroy scrap, one that was over before the TV crew could flash the "tale of the tape" graphic. Finally, Antero Niittymaki made the save of the night in Philly's 3-2 win over Atlanta. Ilya Kovalchuk scored his 50th goal with 30 seconds left, and then uncorked a wrister before the final buzzer that Niittymaki flashed a pad out to save, keeping Philly in the eighth seed for now. Thank God the Flyers' goaltending turns to shit in the postseason, or we'd really be in trouble.
Puck Headlines
* If the playoffs started today ... well, they'd look a lot like they did yesterday. The Ducks and Stars meet tonight, and that could go a long way in determining if they'll meet again in the first round. Here's an interesting breakdown of the Eastern Conference's "Nightmare Scenarios."
* Alexander Mogilny vs. rapists and murders. [Kuklas Korner]



* Hartford Whalers fans that can't give up the ghost are either the most inspiring or depressing puckheads on the planet. A new documentary could help split the difference. [The FanHouse]
* Bob Probert, Chris Nilan and Stu Grimson go to Afghanistan with the Stanley Cup. Bin Laden signs Marty McSorley, Tony Twist and Tie Domi to 10-day contracts, just in case. [Canwest]
* Predicting this year's hot playoff goalie. I'm not a betting man, but I'd lay off any action on Dan Cloutier. [Going Five Hole]
* Finally, I saw this on eBay and I think the world is better with this in it. For the record: I'm offering a sixer of Dominion Brewery Oak Barrel Stout to anyone who can get me a photo Chris Chelios wearing this pin: