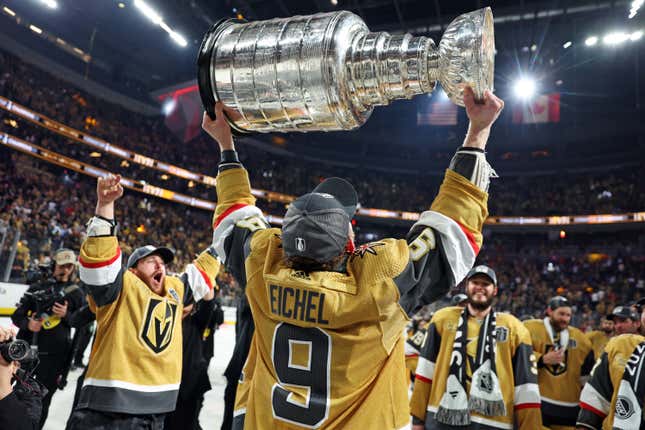 Sometimes, you just wear it:
Certainly, Jack Eichel's disappearing act last spring when the Knights were chasing a playoff spot didn't portend to this run. Neither did his 66-point regular season, not quite a point per game. But there's little question Eichel was the best player on the ice in all four rounds for the Knights, which ended with a 9-3 ass-waxing in Game 5 over the Florida Panthers.
Eichel's vision was the true marvel, as he piled up 20 assists in the playoffs, which doesn't even really tell the full story of all the chances he set up with eagle-eyed, one-touch looks through traffic or passes where you'd swear he had eyes in the back of his head. It will surely go down well in Edmonton, though maybe the lesson that Oilers fans should be terrified of is that it can be a good thing when a player removes himself from a bad situation. One wonders if McDavid isn't thinking about that at this very moment and wondering if he missed his window.
Certainly, the Knights' win hasn't gone down in most hockey circles outside of Vegas, with lots of jokes and snickers about "the six long years they had to wait." Hey, if the team you root for has taken 20, 30, 40 years, or more between Cups because it's continually Flyers- or Leafs-stupid, that's the game. Fans should know that whenever those desperate and long-in-the-wasteland teams finally do claim the Chalice, they'll know a joy that Knights fans simply can't. It's little solace at the moment, but it's the truth.
There was also plenty of ire about the way the NHL juiced the expansion draft, and the Kraken's recent 100-point season only proved it more. Did the Knights have something of an advantage with the way they were allowed to be constructed? Probably? But taking advantage of doddering old drunks in other front offices isn't illegal, and is a hockey tradition. Yes, the 7 forwards and 3 D or 4 and 4 protection lists mean that the Knights and Kraken could get second-liners or second-pairing players, even in abundance. That doesn't mean that Dale Tallon in Florida had to simply serve them up Jonathan Marchessault or Reilly Smith for free so he could A) stick it to the analytic-inclined in his own front office just because he's a stubborn old fart and B) to protect NICK FUCKING BJUGSTAD. It doesn't mean the Ducks couldn't have tried to crowbar a clinically dead Kevin Bieksa out of his no-trade clause so they could keep Shea Theodore. It doesn't mean that the Blue Jackets…oh fuck it, they're forever doomed to rot in their own filth so William Karlsson was always going to flourish somewhere else (and Oliver Bjorkstrand in Seattle! Way to go Columbus! Doing great!).
Maybe the Knights had more room to wiggle when the big ticket items were available, but they went and got them. Alexi Pietrangelo was the most prized d-man on the free agent market. Vegas signed him. Mark Stone was the biggest trade piece at the time. The Knights ponied up. They did the same when Eichel demanded out of Buffalo. They didn't shy from going for it and figured out the cap stuff later.
Did they get cute with the cap and Mark Stone's back surgery that miraculously left him available for the start of the playoffs? Sure, but that's a trend in hockey now. Nikita Kucherov and Patrick Kane have previously been put on ice this way so their teams could duck the cap. If you ain't cheatin' you ain't tryin'.
Yeah, maybe Vegas has an advantage with no state income tax, but that's not anything the Stars or Panthers, or Lightning don't have. It's warm, and players like warm, but the NBA deals with this too. Who wouldn't rather be rich where it's warm instead of having to de-ice the fucking lock on your car door to even get in the thing? That's life.
Maybe the Knights had some advantages exclusive to them, but they also did it better than anyone. They iced a roster that was faster than anyone else, and changed the NHL game into the vertical one you see now. Get it up the ice as quick as you can. They've only acquired players since that first year who help them do that. They had a plan, they stuck to it, and that alone puts them ahead of at least half the league. Now basically every team is trying to do that.
It's funny that amongst a fanbase that swears every NHL draft lottery is rigged, or that it should be rigged to avoid a McDavid-in-Edmonton scenario, there's a bunch of wailing about the league maybe just loading the dice a touch to make sure an expansion team in an untested market would have an easier time grabbing hold of the city by being watchable, or even good. Vegas has become a destination for hockey fans, but it also has a rabid home fanbase too. This isn't the Raiders who only survive by traveling fans. They've made games there their own experience, which is rarer and rarer in arenas across both Canada and the US as they all tend to look and feel the same.
Yeah, we all had to wait longer than six years. Some are still waiting. Some may forever. That isn't on the Knights. We can bitch and moan all we like. They have the ultimate answer now.