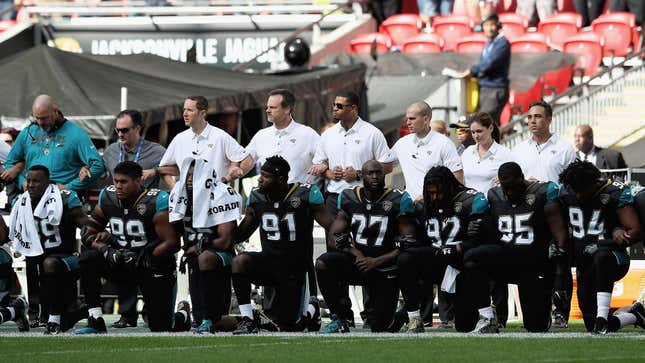 When the Jaguars take on the Kansas City Chiefs on Saturday at Arrowhead Stadium, it will be Jacksonville's first time playing in the Divisional Round since 2017 — which is also the last time the Jags made the playoffs. 2017 is coincidentally the same year in which members of the team kneeled against a politician's hateful ways. Donald Trump was the cause then. If it happened this time, it would be because of Ron DeSantis.

How running an NFL team is like running a restaurant | Chef Emeril Lagasse
This is why local elections are even more important than national ones.

Florida man at it again
This week, Florida's Republican governor blocked the College Board from testing a pilot AP African American Studies course. The National Review was able to obtain a letter that detailed how the state's Department of Education's Office of Articulation feels that the curriculum "is inexplicably contrary to Florida law and significantly lacks educational value."
According to information from the 2020 Census, at the time, Florida ranked as the third-largest state with a population of 21.5 million. Of those residents, 12.4 percent were Black, which equals over 2.5 million Black people. Also, over 45 members of the Jaguars' total roster are Black. But despite those numbers, a governor that's already banned Critical Race Theory and who signed the "Stop Woke" act into law last year, dared to post a message on MLK Day when he's tirelessly working to prevent Black — and white — students from learning what King's famous dream was actually about.
(Also, DeSantis also made a push to ban COVID-19 mandates in Florida this week.)

Politics and sports
Recently, DeSantis slammed a job fair that the NHL was going to hold in the state that was supposedly going to be open to people who "identify as female, Black, Asian/Pacific Islander, Hispanic/Latino, Indigenous, LGBTQIA+, and/or a person with a disability." This isn't surprising given who we're talking about. Just last year, DeSantis signed the "Don't Say Gay" bill into law which bans public school teachers from classroom instruction on sexual orientation or gender identity.
A few years ago, the relationship between the NFL and politics was tumultuous, to say the least, as the President seemed to find great joy in taking shots at players, owners, the league, and Commissioner Roger Goodell as a way to keep igniting his base. As a result, people started kneeling all over the world following in Colin Kaepernick's footsteps.

*Looks around*

A good time to take a knee
Given the circumstances, it seems like this would be a great time for some of the Jaguars to take a knee again.

But, it's a pipedream. We now know that the "racial awakening" of 2020 disappeared faster than it arrived and that the peaceful act of kneeling was hijacked, eventually turning it into a fad. Besides, this is the Jacksonville Jaguars we're talking about. A franchise that was back standing for the national anthem only a little over a week after Trump said that players who kneeled should be fired.