Ready for wild, uneducated declarations? Miami quarterback Jacory Harris will be the #1 pick in the 2011 NFL Draft. He'll be just like JaMarcus Russell, only he'll be good instead of grossly obese.
Harris plowed through his second straight ranked opponent last night (Georgia Tech), completing 80% of his passes, tossing three touchdowns, and making it all look relatively effortless. Harris is only a sophomore, but he sure as hell looked the part of a full-grown NFL QB last night: poised, accurate, and with a RPG launcher attached to his shoulder. He thrust himself, fully engorged, into the Heisman "race" last night. More important, the man has an afro butterfly, and he thinks Tim Tebow is lying when he says he's a virgin. Witness the exchanges our young hero had with Dan LeBatard on the radio back in July.
Harris: I'm gonna wear a pink suit to the ceremony, pimp cup and all.
LeBatard: You're gonna bring a goblet to the Heisman ceremony?
Harris: Yeah, I'll bring it.
LeBatard: How bout the fedora?
Harris: The padora?
LeBatard: The hat. The pimp's hat.
Harris: I don't know about that. I might want to show off my hairstyle at the time… I'm going through phase two.
LeBatard: Explain that.
Harris: You have stage one, when you start. Then stage two, where you have your little ugly stage. Then you have stage three, where you busting out of the cocoon, and you're ready for the braids, and all the different hairstyles.
G/O Media may get a commission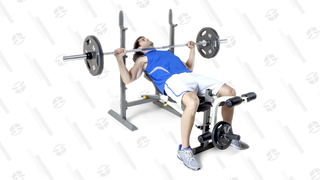 10% Off
Marcy Folding Weight Bench
LeBatard: Bustin' out of the cocoon like a beautiful afro butterfly?
Harris: Yeah, like an afro butterfly.
Since I know nothing about college football, I asked the great Spencer Hall a couple of questions about Harris' potential.
Me: Jacory Harris: #1 pick in 2011, or 2012?
Spencer: 2011. It's da U, he ain't stayin'.
Me: Could he spur Miami to a national revival? Also, if he played for Florida, would Shanoff eat peanuts out of his stool, as Lt. Winslow is willing to do now?
Spencer: Most definitely, but don't get out the lube yet. He had two very successful games against two very bad defenses. FSU's pass defense is ranked 100 plus in secondary. Tech gave up long balls to Clemson, too. A freshman QB, no less.
Me: How good can he be? If he beats up Va Tech next week, is he a Heisman finalist? If I gave a shit about that sort of thing?
Spencer: Oh, he could be verrrrry good. Watch his footwork, his progressions, his downfield vision. He has zero fear in the pocket. That, more than anything, will have pro scouts dropping panties for him. I think he becomes a finalist with the subtraction of Bradford. Otherwise, it's Tebow, McCoy, Bradford, and [INSERT 2 OTHERS HERE]
Me: Do you think they beat Va Tech?
Spencer: Yes, but only because VT can't score. Tech's corners and d-line will be the best they face yet. Harris hasn't thrown against good coverage yet. FSU lost half their secondary from '08, and not the good half to lose. GT was awful through the secondary. What has been impressive is his ability not only to function in the pocket, but how at ease he is there and out of the pocket.
Me: I agree. AND he has side etchings in his hair! Blacks are bringing the Anthony Mason look back!
So look out, Timmy Tebow. You're not only one who can shred a defense and filet a newborn.