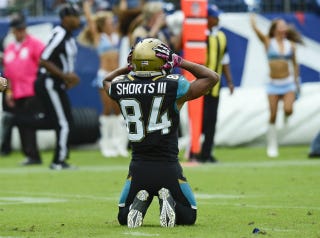 It was almost a sad and beautiful comeback against a team nearly as feeble as they are, but it was ruined by someone's big stupid paw knocking down a long, last-second field goal attempt.
The Jacksonville Jaguars, now 0-6, opened the game with a competence and ferocity no one would ever associate with the Jags. A seven-play, 80 yard drive, capped by a Storm Johnson touchdown, put the Jags up 7-0.
They would not score again until there was under a minute left in the game.
But because they were playing the Titans, it's not like they were in danger of being blown out in the meantime. Tennessee built only a 16-7 lead, which left the Jags hope, on the off chance they decided to play non-awful football again at some point. Against all odds, they did, and Blake Bortles played some pretty goddamn good football (32-of 46, 336 yards, a touchdown and a pick).
Bortles went 83 yards over 9 plays to get the score to 16-14 with 37 seconds left. Then Josh Scobee pulled off an on-side kick. Then Bortles went back to work, getting the Jags into field goal range in 24 seconds. It was a Jaguars onslaught.
But the 55-yard attempt required a low trajectory, and it was blocked by big Sammie Hill. The hope was false and the onslaught was killed. Jaguars, as always, lose.
[Photo credit: AP]