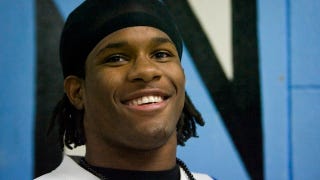 This week, just by sharing two details about his pregame ritual on the site Gator Country, incoming Florida receiver Ja'Juan Story became the most interesting freshman football player in the nation. This has been going around a bit now, but we couldn't let it pass by without giving it our full approval. We love that there's no shame here, and no practiced filter, just the facts for Amy Campbell: Ja'Juan Story likes to take a doodoo before games and the most-played song on his iPod is "Fireworks" by Katy Perry, and Ja'Juan Story does not care that you care about it.
Q: What's your favorite pre-game ritual?
A: Well, I take a doodoo. Before every game I doodoo.

Q: That's your FAVORITE pregame ritual?
A: Well, that's the only thing I do. That's one thing I have to do before every game, or I won't feel energy, and I'll just feel slow. When I do I just feel light on my feet and everything, and I feel faster, so that's what I do.

Q: You know I'm going to write this in a story right?
A: Well, I mean, that's what it is. I doodoo and then listen to Katy Perry.
He's going to be a star.
Incoming Gators Q&A: WR Ja'Juan Story [GatorCountry.com]
*****
Thank you for your continued support of Deadspin.