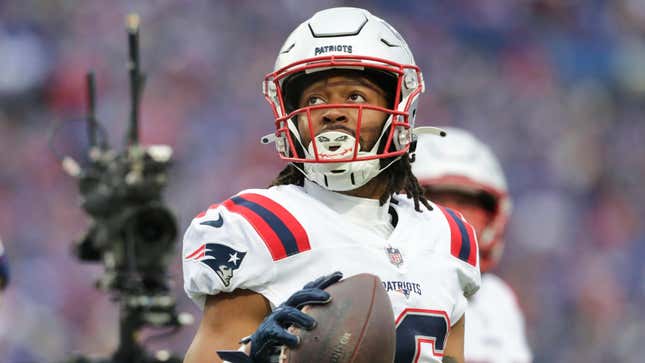 March 2022: The Los Angeles Rams were less than a month removed from their Super Bowl parade and NFL free agency was just underway. Fans were a naive group prior to that 2022 offseason, having no idea about the storm of game-changing moves that lay immediately in front of us. Before Russell Wilson to the Broncos, Davante Adams to the Raiders, Tyreek Hill to the Dolphins, and AJ Brown to the Eagles, there was one move that set all the big-name free agent signings into motion — Christian Kirk signing a four-year, $72 million (up to $84 million through incentives) deal with the Jacksonville Jaguars.
Sure, this wasn't the first move of the offseason, as the tweet above mentions, but it was the first major signing. Kirk had just come off the best season of his career, racking up 77 receptions, 982 yards, and five touchdowns with the Arizona Cardinals. Still, when word hit the internet of Kirk's deal, fans everywhere collectively tilted their heads in confusion. Sure, he was decent, but not worth up to $21 million a year, right?
Well, after one season in Jacksonville, the Jaguars look like geniuses. When thrust into the spotlight, Kirk thrived, setting new career highs in every category that matters. He expedited quarterback Trevor Lawrence's development and his Jags are set to run the AFC South for years to come. Although paying someone with as little success in the NFL as Kirk seemed questionable at the time, it paid dividends because the Jaguars saw what Kirk could become. Every team should be striving for a new fancy wide receiver to help their young quarterback, even if it means paying a pretty penny. Hill helped Tua Tagovailoa. Brown helped Jalen Hurts. Although so many talented receivers may not be available through trade as were last offseason, the 2023 free-agent class still holds a few gems at the position, most notably 26-year-old Jakobi Meyers.
What about other free-agent WR talent?
While other, more established receivers like Super Bowl champ JuJu Smith-Schuster or Aaron Rodgers' top target from 2022 Allen Lazard may be safer options, the upside that Meyers brings to the table is very reminiscent of pre-Jags Christian Kirk. Meyers thrives in the slot — although he has shown an ability to win on the outside as well. In 2022, he lined up in the slot for 333 offensive snaps (51.7 percent of the time) — the 16th-most slot snaps in the league. He accumulated 67 receptions, 804 receiving yards, and six touchdowns in just fourteen games while operating in a very run-heavy, conservative offense with subpar quarterback play and Matt Patricia as his offensive coordinator. That's a lot of factors working against Meyers, and yet he showed flashes of top receiver potential.
Now, Kirk and Meyers don't share many of the same tools. Kirk is a YAC monster with upper-end speed and elusiveness. Meyers excels in contested catch situations. Over the last three years, he's maintained a 69 percent catch rate on contested balls. That's one of the best marks in the league. However, the point still remains. Both players were underutilized by the team that drafted them and had the tools to burst into stardom under the right circumstances. Lucky for Meyers, Kirk paved the way for the NC State product to earn a massive payday ahead of 2023.
Where can Meyers excel?
The next question should be "Okay, well clearly, the Patriots weren't the right system to maximize Meyers' talents. Who is?" The simplest answer would be to replicate a team in the Jaguars' situation — good head coach, young quarterback, solid run game but not a run-heavy offense, and in need of talent at receiver. The New York Giants fulfill three of those categories. Unfortunately, they are a pretty run-heavy team, ranking 22nd in pass-play percentage last season. Furthermore, the run game might not be as solid for Big Blue in 2023 should Saquon Barkley not be re-signed. The Colts and/or Texans are probably the best fits depending on what they do in the upcoming draft. Sure, both teams are heading into 2023 with rookie head coaches, which could also alter their pass-heavy tendencies from 2022 (ranking ninth and tenth in the league), but that's as close to four check marks as we're going to get.
Meyers' deal could set the standard for the rest of the 2023 free agent wide receiver class as well. In reality, though, no one, except maybe Smith-Schuster should come close to the average annual value Meyers will command. Odell Beckham Jr. is aging and didn't play at all last season. Allen Lazard had an opportunity to take over all the targets Davante Adams left in Green Bay. He got outshined by a pair of rookie wide receivers. Darius Slayton was inconsistent. Julio Jones just ain't the guy he once was.
The fact of the matter is that several teams watched other organizations pay big money for wide receivers last offseason, and almost all of them panned out exactly how their franchise had hoped. Even if Meyers doesn't possess the skills necessary to explode in 2023 as Kirk did. I find it hard to think some team won't be willing to take such a risk. Personally, though, I have faith in him. Don't be shocked when it happens.