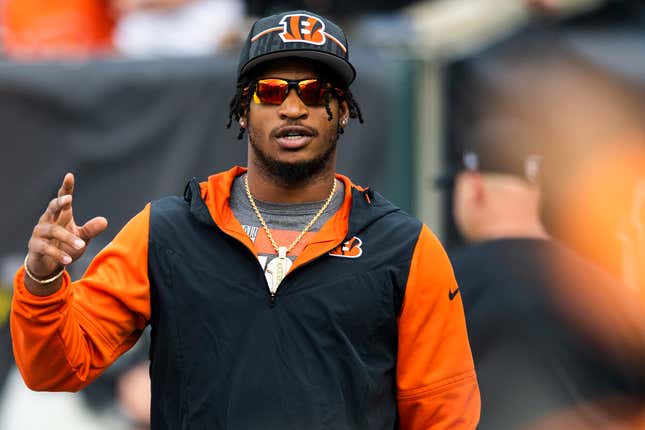 Ja'Marr Chase was recently asked to list his top wide receivers of all time in the form of Mount Rushmore, and he went in a different direction than you'd probably expect. He listed a couple of regulars we usually see on these rankings, then Chase went into left field on one of his choices. Chase mixed his list up a bit, so you've got to give him credit. However, he did leave two bonafide all-time greats off his list and explained why.
How running an NFL team is like running a restaurant | Chef Emeril Lagasse
Antonio Brown
Cooper Kupp
Calvin Johnson
Jerry Rice
No Terrell Owens or Randy Moss to be found on Chase's mountain. The first thing that came to mind was that he knew Mount Rushmore could only include four people. There have been countless times when someone is interviewed and asked for their Mount Rushmore of whatever, and they proceed to list six or seven slots. Four presidents reside on Mount Rushmore, people. Let's get it together.
When questioned about excluding TO and Moss, Chase had this to say.
I'm not knocking them," Chase said. "I'd have Ocho (Chad Johnson) in there too if I could. There's only four."
Obviously, the one that seems a bit out of place for most would be Cooper Kupp. Although winning the triple crown is a phenomenal accomplishment, which was Chase's main reason for including him on the mountain. Jerry Rice needs no explanation, although it's funny how Chase realizes this, but just last week, Tyreek Hill left the GOAT off his top five altogether. And Chase is precisely six years younger than Hill, as they share the same birthday.
Antonio Brown being on Chase's Mount Rushmore is one that many will cringe at because of all the trouble and drama he's been involved with off the field. When it comes to his production for the Pittsburgh Steelers, though, you can see why Chase might include Brown. Calvin Johnson is a no-brainer and nowhere near as controversial as AB.
While Chase left off those notable names, we did see that he would've also included Chad "Ochocinco" Johnson had he not been limited to four spots. Again, good job on understanding the assignment. But it's safe to say that given a top seven wideouts of all-time, Moss, Owens, and Johnson would all make the cut.