The student conduct code hearing to determine whether Jameis Winston violated Florida State's honor code was finally held on Monday and Tuesday, and somehow USA Today has obtained Winston's entire statement before former Florida Supreme Court justice Major Harding.
Jokic? Embiid? The NBA MVP is obvious... right? | Keep it a Buck(et)
In the statement, Winston gives a detailed account of what he says happened on the night of December 7, 2012. Many of the basic facts—where Winston met the accuser, how they got back to his apartment, what went on in Winston's bedroom and bathroom, how the accuser got back to her dorm—match what she told police. One notable difference is that the accuser told police a man walked into Winston's bedroom and told him to stop, while Winston's statement says FSU teammate Chris Casher came in twice but said nothing of the sort.
Of course, what is at issue here isn't (or, at least, shouldn't be) the basic mechanics of the night. The accuser told police that she had consumed five or six shots and couldn't remember much of the night. Winston's statement says that she had multiple opportunities to revoke consent—" If (NAME REDACTED) did not want to have oral sex or intercourse with me, she was fully capable of expressing it to me, the taxicab drivers, the numerous students outside of Potbelly's, Chris, and/or Ron."—but that isn't at all how consent works. Consent has to be given: it isn't assumed that you can have sex with somebody until they withdraw consent. And, if the accuser was as drunk as she says she was, she wasn't even close to being capable of giving consent.
G/O Media may get a commission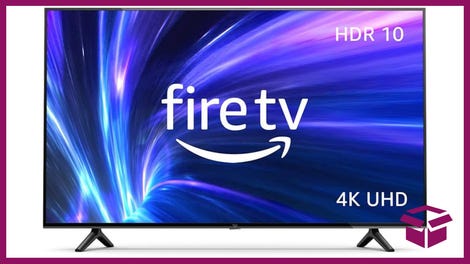 42% Off
Amazon Fire TV 50" 4K Smart TV
Winston ends his statement forcefully, kicking off the concluding two paragraphs with this insane line, "The only thing as vicious as rape is falsely accusing someone of rape," and explaining that he was declining to answer any questions.
Rape is a vicious crime. The only thing as vicious as rape is falsely accusing someone of rape. (NAME REDACTED) and her lawyers have falsely accused me, threatened to sue me, demanded $7,000,000 from me, engaged in a destructive media campaign against me, and manipulated this process to the point that my rights have and will continue to be severely compromised. (NAME REDACTED) and her lawyers' public campaign to vilify me guarantees that her false allegations will follow me for the rest of my life.

At some point they will be held accountable, so I have determined that it is in my best interests to exercise my right pursuant to Rule 6C2R-3.004 (6)(d)of the Florida State University Student Code of Conduct and answer questions when experienced lawyers and other experts can assist me in confronting (NAME REDACTED) false accusation and when (NAME REDACTED) is subject to the penalty of perjury and other claims for (NAME REDACTED) falsely accusing me of rape.
You can go read the entire statement over at USA Today.
Photo via Jeff Gammons/Getty