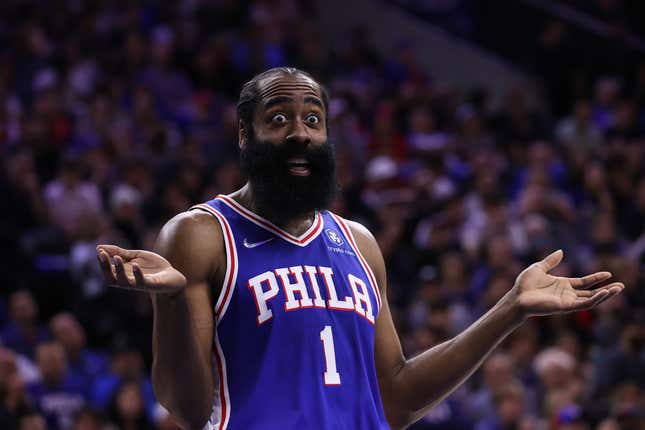 It's fair to ask the question, what does James Harden want? Is it a ring? Is it a lifestyle? Is it his own team? The 33-year-old former one-man wrecking crew is no longer an indestructible pinball, bouncing off of everything, and amassing high score after high score. No team is going to hand him the keys to the franchise as he is now fully a Robin, but on Thursday he opted into his contract in order to request a trade from the Philadelphia 76ers for reasons that are unclear.
Grant Hill looks to repeat Team USA's 2004 "success"
I say that because he's run the gamut on situations — the guy, the guy with a Hall of Fame backcourt partner, a guy with a Hall of Fame wing player, a guy on a superteam, a guy with a Hall of Fame center — and nothing has worked. According to NBA shippers, the possible destinations are your usual lineup of near contenders. Think teams like the Los Angeles Clippers, Milwaukee Bucks, Miami Heat, Boston Celtics, and I guess the New York Knicks.
Harden's behavior displays a pattern of someone chasing circumstance over self-acceptance. It's saying, "This new car, house, marriage, job, team, title, or circumstance will make me happy." And in some cases, that's true. Half the superstars in the NBA are in search of a Larry O'Brien Trophy to give them closure and inner peace.
Remember how satisfied Dirk Nowitzki was after he attained basketball nirvana? (Harden would do a month-long residency at the Peppermint Hippo if he ever won a title.) That's the feeling all professional athletes yearn for, but few can actually experience it.
In order to get to that stage though, Nowitzki first held himself accountable. During the Dallas Mavericks meeting with the Miami Heat in the 2006 NBA Finals, he attempted 17.5 field goals per game, but in their victorious rematch five years later, Dirk bumped that up by nearly four attempts. By not leaving anything to chance, he didn't have any resentments about how the series played out, and even if they had lost, no one was going to put that on him.
While I don't think the fix for Harden is necessarily shooting more, at times it could be if he were to embrace the responsibilities that come with being one of the two to three best players on a championship contender.
The solution is in Harden's mind
This will sound simple and easy to accomplish considering Harden's playoff history, but it's actually something he's never done: accept failure. I'm not saying accept himself as a failure, but rather be OK with what he, for lack of a better cliche, left out there on the court. There are a lot of aspects about the Beard — including the beard — that bother people, but what I think stands out to me is his hesitancy to shoot his fucking shot.
His record of postseason do-or-die no-shows is beyond frustrating. I'd rather he go down in a flurry of misses and turnovers than hope that someone else does it for him, and that's at the center of this latest trade request. Harden is trying to find a circumstance that doesn't exist, because he's unwilling to change.
The telltale sign of a truly great player is how they affect the outcome even when they're not on a heater. It's easy to win when the shots are falling, but it's rare to get a well-played contest when teams are desperate. It's almost as if the league swaps out hoops before games 6 and 7 and replaces them with outdoor rims.
There's nary a favorable bounce to be had, and everything is twice as hard. Guys are tired or scared, and it feels like a few of them are going to keel over during timeouts due to that fatigue, fear, or both. Oftentimes, Harden emits one of those vibes, but I'm not enough of a backseat psychiatrist to tell you why he does that. If I could, perhaps I'd have a better answer to my original question of what Harden wants.
This latest search isn't going to produce different results in Miami, LA, Boston, New York, or wherever the Beard lands until he accepts that his play directly affects the success of the team. He's never going to be an organization's 1A option again, but he's still at a juncture in his career where his talent can swing a moment, a game, a series, and potentially a title.
James Harden gets paid too much, shoots too many stepbacks, and handles the ball too long to think he's going to find a franchise that can win a title even if, during games of consequence, he has an off-night by role players' standards.