Because this 100 year anniversary version of the Copa América hosted in the U.S. is widely understood as the made-up, money-scrounging ruse that it is, there are only a select few teams that have both the talent and the motivation to go out and win the thing.

The best sports movies according to Toheeb Jimoh
Tournament favorites Argentina are one such team. Their star-crossed golden generation made it to the finals of the last World Cup and the last real Copa América only to come out with nothing but heartache. They would love to finally win a trophy that at least imitates an air of meaningfulness while in their country's colors. Mexico are another, seeing as they have a talented bunch of players that have a legitimate opportunity to win a famous tournament they regularly compete in but rarely have a real shot at, all while playing basically at home. Colombia are a third Copa hopeful, and their chances mainly come down to their young stud, James Rodríguez, and his desire to once again prove that he's one of the best players in the world.
Just a year ago, it would've seemed odd to think James Rodríguez would ever have his status as a true great questioned. This time last year, Rodríguez was coming off his successful debut season at Real Madrid. Off the strength of his dominating performances the summer before during the 2014 World Cup, Real didn't hesitate to snatch up the Colombian wonderkid for an enormous transfer fee and make him their newest Galáctico. During that first year the attacking midfielder scored 13 goals, pinged 13 assists, and with his dazzling dribbles and stank face-inducing passes and stunning goals, established himself as maybe only behind Brazil and Barcelona starlet Neymar on the Most Likely To Succeed Messi And Ronaldo As Superduperstars list. Much was expected of him at Real Madrid, and he delivered at every step.
This past season was nothing like the one before. Early on in new Real manager Rafa Benítez's regime it became evident that Rodríguez did not fit well with what the coach wanted from his players. Injuries, rumors of his lackadaisical approach to training, and allegations of his attitude of entitlement dogged him all year. One of the perceived reasons why Benítez was ultimately fired midway through the season was that he couldn't get through to fan- and club president-favorite Rodríguez, but even when players' coach Zinédine Zidane was hired, the Colombian still found himself out of favor.
G/O Media may get a commission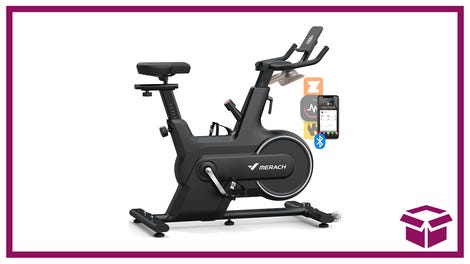 14% off + Coupon
Merach Indoor Cycling Bike
In public Zidane said all the right things about how happy he was with Rodríguez, but in practice the manager kept him firmly fastened to the bench for the entirety of Real's biggest games. By the end of the season, Rodríguez—once seen as the future of the biggest club in the world—wanted out, and Real were reportedly more than happy to oblige.
The only times Rodríguez was given the position of importance and influence that his undeniable skills deserved were those times he spent back home with the Colombian national team. There, he was once again seen as the fulcrum of his team's attack, playing in his best position in the playmaker's spot behind a central striker. The way he impressed in a World Cup qualifier against Bolivia showed that he still had the eye for the killer ball and flair for the flashy goal. Now, at this summer's Copa América, he's out to demonstrate that he's still every bit the player everyone thought he was in happier times.
After a sleepy tourney opening win against the U.S., in which he scored a penalty but also injured his shoulder and had to come off, Rodríguez put together a vintage performance last night against Paraguay. He dominated the game from his position in the middle of the park with a calm head that always knew when to apply the pressure and when to ease off, a soft touch for perfectly angled flipped passes to open teammates in space, the ability to blast curving crosses and through balls from distance that set up his compatriots for shots in great positions (he assisted Carlos Bacca's goal from a corner kick, had another sidewinding ground assist overturned when the shooter was ruled offside, and probably would've racked up a couple more if this fellow attackers had been more composed), and of course with his dribbling and shooting instincts that make up the bulk of his career highlight reel.
Rodríguez, as he always does at his best, put together a truly complete performance. His unique command of the ball's trajectory, always getting it exactly where he wants it to go—whether it be rolling firmly along the grass as it meets an onrushing teammate as he sprints behind the defense, or a bending aerial pass from a free kick that sails right onto the hairline of his target, or a cross-field smash from deep that screams towards the foot of a player some 40 yards away, or a trademark curling shot destined for the top corner of the goal—is uncanny, and is probably his single most lethal ability amongst his ridiculous array of talents. But he's also a hard worker willing to chase back on defense, and is willing and able to drop deep into the midfield and dictate proceedings from there, and can fly up and down either wing and from those wide areas create chances on goal for himself or others. When fit and happy and on the pitch, there's practically nothing Rodríguez can't do. As last night's game proved, one uneven season at Real Madrid was not enough to dull his senses or make him forget how to be great.
Who knows if this Copa América will be enough to convince Real to stick with him next season, or if it'll instead lure in another big-money suitor to take him away from Madrid for a price Real can live with. Either way, we can be sure that wherever Rodríguez does find himself playing this coming fall, as long as he gets the minutes and opportunities to shine, he should look something more like the superstar he looked like yesterday rather than the bench warmer he was for most of last season.