Not only did Moyer make the rotation, he is slotted to be the second starter behind Jeremy Guthrie. He is 49 years old and will become the oldest pitcher to win a game in the Major Leagues. Notes the Denver Post:
Moyer was not added as a novelty act. He is 2-0 with a 2.77 ERA this spring, and his body recovered with no issues after throwing 89 pitches on Wednesday. Jack Quinn won a game at 49 years old in 1932. Tracy informed Moyer this afternoon. The left-hander last pitched in the big leagues in 2010 with the Philadlephia Phillies and sat out last season after undergoing elbow and flexor tendon surgery.
Moyer first made his debut in the big leagues in July of 1986. His return now, as he is about to turn 50 basically signals the end of times. A sampling of some of the other wacky things to happen back in 1986:
∙The Voyager 2 space probe makes its first encounter with Uranus.
∙Four days later the space shuttle Challenger disintegrated seconds after launching.
∙Haley's freaking Comet made an appearance.
∙The Pope visited a synagogue for the first time ever.
∙the 335 Years war finally ends between the Netherlands and the Isles of Scilly. (Older than Jamie Moyer).
G/O Media may get a commission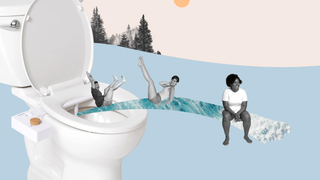 17% off
Tushy 3.0 Warm Water Spa Bidet Attachment
∙Geraldo Rivera opens up Al Capone's secret vault, called the program "The Mystery of Al Capone's Vault."
∙Chernobyl.
∙Out of Africa wins Best Picture.
∙Len Bias overdoses on cocaine and dies days after being drafted by the Celtics.
∙Almost 13 inches of rainfall in one day is recorded in Sydney Australia, a record.
∙Donovan McNabb's time in Philadelphia is prophesied.
∙The Oprah WInfrey show debuts.
∙Slayer releases "Reign of Blood."
∙Phantom of the Opera debuts on Broadway.
∙Bill Buckner loses to the New York Mets in the World Series.
∙Mischa Barton is born.
∙Scatman Crothers dies.
Rockies' Moyer makes rotation, will pitch April 7 vs. Astros [Denver Post]