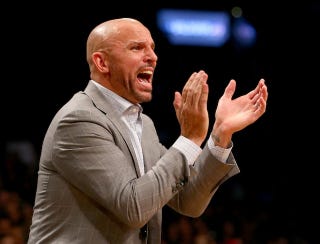 Well, that escalated quickly. Over the weekend, reports about Brooklyn Nets head coach Jason Kidd's unhappiness with his employers began to surface, along with talk that the first-year head coach was looking to escape to Milwaukee. Now it's being reported that Kidd has gotten his wish.
The Nets have agreed to trade Kidd to the Bucks in exchange for two future second-round picks:
The Nets were reportedly seeking a first-round pick in exchange for Kidd over the weekend, but they seem to have softened their demands.
There's no word yet on exactly what kind of role in addition to coaching Kidd will fill with the Bucks. This whole thing was apparently spurred by the fact that Kidd wanted the same kind of organizational control that coaches like Doc Rivers and Gregg Popovich have, and was upset that the Nets wouldn't give him the power to oversee the team's basketball operations. He may very well get that power in Milwaukee, which would be quite the coup for a guy with zero front-office experience and one year of coaching under his belt.
Meanwhile, the Nets are already searching for a new coach:
The NBA is weird.