Fox Sports' most combustible columnist unleashed a year-end list of truthfulness. He goes head-hunting after a few media heavyweights: Rick Reilly ("washed up") , Erin Andrews ("needs a big brother"). Least surprising drive-by victim? Deadspin.
So Whitlock rehashes his old complaints about Deadspin again, this time a little saltier and nastier, calling both myself and the floppy-haired hero "idiots" for past transgressions against Stuart Scott and Leitch's unfortunate NPR interview. This is fine. Neither one of us would consider those situations our finest moments as human beings. But the one issue I have with Whitlock's statements is the notion that too many media members "have their heads up" Deadspin's ass in order to garner some favorable attention or get some mafia-style protection. His last statement sums it up:
It's the same pattern that turned ESPN evil. Everyone decided working for ESPN or getting their scoop scrolled across the bottom of ESPN was more important than actually policing the most powerful institution in sports.
Look, the difference between Deadspin and most of other media outlets out there is that we're pretty transparent in our biases. Yes, the tagline says there is "no favor" here, but you know what, that's not how the world works. Deadspin editors and writers (both past and present ) like some media people, sports teams, athletes, and opinions more than others. We can all toy with the notion of objectivity on certain issues, but there are always going to be biases. What separates Deadspin from ESPN or any other mainstream media outlet is that it's never really presented itself to be objective. This site will be nasty, unapologetic, and downright juvenile at times and not always for the greater good or to excavate the unvarnished truth. Sometimes it's just trying to have fun and be a pest for the sake of being one. But this site is policed enough in both mainstream media and the sports blogosphere, as it should be. Stories and posts are vetted when they need to be and when mistakes are made, we own up to them.
And, also, Jason: if you're so hellbent on convincing other media members not to pander to Deadspin for coverage or provide us with material, it's a little hypocritical of you to call them out when you've sent us plenty of emails trying to make other people look bad as well and promote your own agenda. And, you know, as long as we're being "truthful", sorry we never posted that Kobe parody video you asked us to but it sounded kind of lame.
G/O Media may get a commission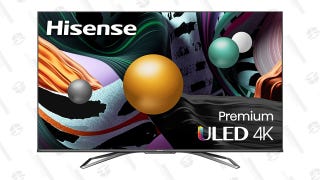 Save $350
Hisense ULED 65" Android 4K HDR Smart TV
Everybody needs to be challenged, right?
****
Oh, go check out the most popular posts and top stories section see some of the things you missed during the short, hangover-filled week. We'll be back up to full-speed on Monday. Or Tuesday.
TOMORROW: Your weekend editor will be me. SUNDAY: Dash. Others will be around at some point, once the purse strings are loosened, hopefully.
Thank you for your continued support of Idiotspin.