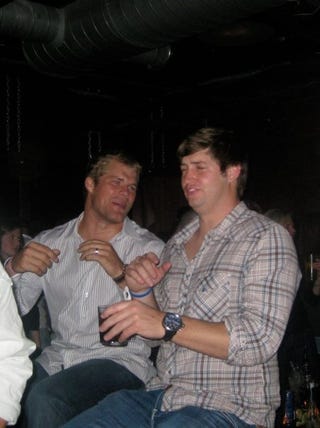 Busy first week for Jay Cutler, who seems to be familiarizing himself into the Chicago nightlife scene quite nicely since his arrival.
According to numerous reports, Cutler spent the Easter weekend bonding with teammates (like Greg Olsen) at Chicago's Sub 51, boozing and boinking internet starlets, I assume as a way of decompressing from his messy divorce from the Denver Broncos. Why else would he be so young and foolish? HE'S RISKING A DIABETIC PATIENT'S LIFE.
Of course, Cutler could be kicking back with Diet Coke or a Mr. Pib, but wasn't Cutler's alcohol consumption one of the things that got him booted out of Denver? The Italian Fella at Pro Football Talk brought up that issue in late March, per Fox 31 in Denver's Broncos Insider blog:
"The source said there are concerns about Cutler's consumption of alcohol, and 'that he's not that sharp.'
Well, the photo doesn't do much too disprove Cutler's lack of acuity.

Jay Cutler Will Make You Forget About Kyle Orton [Not Qualified To Comment]