Jay Glazer of Fox Sports broke the news that Johnny Manziel would replace Brian Hoyer as the Browns' quarterback this weekend. Naturally, ESPN took that report and "sourced" all over it.
Glazer's tweets:
On SportsCenter, the switch to Manziel was reported without crediting Glazer. In the story on ESPN.com, Fox Sports isn't mentioned until the third paragraph. Here's how that report starts out:
Cleveland Browns rookie quarterback Johnny Manziel will make his first career start this weekend against the Cincinnati Bengals, sources confirmed to ESPN.

The Browns informed Manziel and Brian Hoyer, who has started Cleveland's first 13 games this season, of their decision, sources confirmed.
G/O Media may get a commission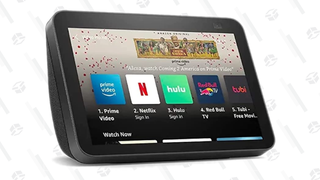 The third paragraph acknowledges that Fox Sports reported it earlier today. How generous.
Glazer vented about the scoop-stealing, and said one of Fox's PR people tried to find out exactly who at ESPN landed their story, though to no avail:
Haha an all-time low from @ESPN on their constant thievery of other's work. FOX PR guy calls them to call BS on their claim they had Manziel scoop. News desk guy @sportscenter tells him their reporter didn't want to be identified. Huh? What reporter doesn't want credit for hard work paying off? Lying bastards. Haha
Haha, indeed.