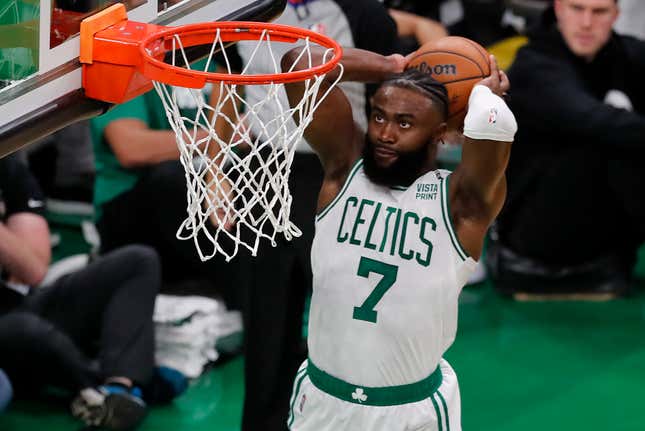 The Boston Celtics are a franchise that's used to making history. As one of the most storied organizations in North American professional sports, making national headlines is nothing new in Beantown. Celtics guard Jaylen Brown made history of his own earlier this summer when he signed the richest contract (for now) in NBA history — a five-year, $304 million supermax extension. Brown was part of another historic moment over the weekend when he became the first active NBA player to suit up for a game in Ice Cube's BIG3 league. And it happened to be their All-Star game, which was held in London.
A single-elimination NBA playoff would change history
Cube posted on X (Twitter) to express his gratitude for Brown the day before the game:
You're probably wondering how Brown was able to play in a league's All-Star game where he's never stepped onto the court prior. Brown participated in this exhibition to support "London Youth," a local charity whose mission is to support the community by enriching the lives of the city's youth. BIG3 also matched Brown's contribution to the charity.
This was a big moment for the league and helped a great cause at the same time. Even with all the good vibes flowing through the arena, Cube still isn't ready to don that green jersey that Brown wears in the NBA, seeing how the BIG3 co-founder is a die-hard Los Angeles Lakers fan. After seeing this happen, you must wonder if we'll see this again.
Brown appearing in a BIG3 game, albeit for charity, could open the floodgates for other active NBA ballers to make the jump during the offseason. Someone always has to be first to do something, and then it only gets easier for those who follow. Adam Silver and the association may be cool with it now, but you have to question how far they'll let this go.
We're well aware of Silver's player-friendly attitude since he became commissioner almost 10 years ago. Many would say this "player empowerment" movement stems directly from Silver's soft touch upon replacing former commish David Stern. He certainly had the correct surname because Stern ruled over the NBA with an iron fist.
Silver has been far more reserved in his dealings with players as commissioner, but how far he'll allow this crossover to go is yet to be seen. However, this situation is intriguing since guys play in Pro-Am leagues nationwide every summer. While it's not exactly apples to apples, it's not far off. It'll be all good until it's not. The first player to get seriously injured in one of these games will ruin it for everybody. No one wishes that on any player, but it's part of the game and bound to happen. It's only a matter of time because now that Brown has done it, more players will likely be ready to make their BIG3 debut.