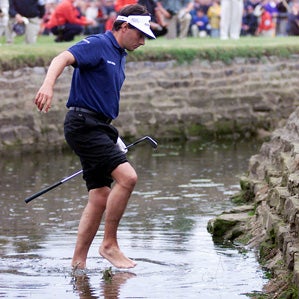 Van de Velde, who memorably choked away the 1999 British Open with a triple bogey, was one of four golfers to qualify for next week's British Open. Even better for Van de Velde, he birdied the 18th hole to qualify.
After the infamous triple bogey, Van de Velde vowed he would play the 18th with his putter (he'd set a record for fewest putts in the 1999 British Open). The next year, he made the trip back to Carnoustie, and played the entire hole with his putter. He scored a six.
Yeah, Jean Van de Velde can drive the ball further with his putter than I can with my Big Bertha. I suck.
Van Nips Into Open [The Sun]