If this case of criminal mischief involved any other professional athlete, it would be moderately surprising. Alas, it's Pittsburgh Steelers' kicker Jeff Reed, whose behavior continues to baffle and amuse.
Courtesy of the Pittsburgh Tribune-Review:
Steelers kicker Jeff Reed was cited with criminal mischief and disorderly conduct after throwing a tantrum over an empty paper towel machine at a Westmoreland County convenience store.

Reed, 29, went in to the men's restroom at Sheetz on U.S. Route 22 in New Alexandria borough shortly before 3 a.m.

After discovering that the paper towel dispenser in the bathroom was empty, Reed started loudly banging from inside the bathroom, state police said. He damaged the towel dispenser.
When Reed left the bathroom, he spoke to a Sheetz employee using loud and profane language. He continued to use profane language outside the store, police said.
Now, I've admired Jeff Reed's willingness to put himself out there, drink, cavort, pose for pictures, dye his hair, trim his pubes — all that. But this is the type of O.C.D. assholishness that could ruin his whole fun-loving man-of-the-people image that he seems to embrace.
Well, actually, given the above picture, it appears the men at The Pensblog are already sick of Reed's gimmick.
G/O Media may get a commission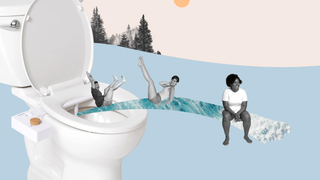 17% off
Tushy 3.0 Warm Water Spa Bidet Attachment
Here's their email:
We took this pic of Jeff Reed last month when he was at the Pens game.
You should see the sideshow. People come up to him and treat him like he is the jesus.
And he has these two bodyguards with him at all times.
He is at every Pens game, and gets up with 2 minutes left in each period. He takes pics with whatever dumbass fans, and then disappears.
He then returns with about four minutes in to the next period.
We we're lucky enough to find where he was sitting, and we pretended to give a shit about him, so we took this pic like we were big fans of him without him knowing.....
Bravo, gentlemen.