Every morning, the fine folks at Sports Radio Interviews sift through the a.m. drive-time chatter to bring you the best interviews with coaches, players, and personalities across the sports landscape. Today: Jeff Van Gundy wonders if you care enough.
Jeff Van Gundy joined KILT in Houston with Vandermeer and Lopez to discuss why nobody cares about the lockout, people from the league not being able to talk about it publicly, the 50-game season in 1999, how the NBA can make things as exciting as March Madness, players signing contracts overseas, and his thoughts on where the lockout is headed.
On nobody caring about the lockout:
"You know what I was thinking about today, and even yesterday, is how very few people care about the NBA lockout. You just don't hear people talk. If it wasn't on sports talk or ESPN… would anybody even know? You have to be careful if you're both ownership and players—that you realize with the economy and so many other options with your disposable income—don't think it will always stay like it has. It can go the other way. This is not football. Football has a stranglehold on America right now, NFL football, and rightfully so. It's 16 games. If you're a season-ticket holder it's eight games, or 10 games with the preseason games, and it's on the weekend."
Aren't they hurting themselves even by not letting anyone talk about the lockout publicly?
"The players certainly can. But I would say this, from the 1999 lockout to this lockout, you can't even mention your players. Back then, you could talk about your players, you just couldn't talk about the lockout… I'm trying to understand why the change, because to me it makes no sense."
G/O Media may get a commission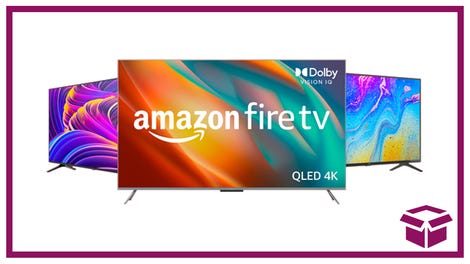 Ooh. stunning.
New Amazon Fire TVs
What was it like for you when the NBA had a 50-game season in 1999?
"People forget how awful the basketball was that year. Not only people were injured, but no practice time. The training camp was two weeks and two exhibition games. The basketball was horrible… The playoffs were a good thing. The regular season was an abomination of basketball."
How do you think the NBA can create the fervor that comes with March Madness?
"Something's got to spice up the regular season… I frankly think the NBA All-Star game has run its course, the whole dunk contest… The game, if those guys actually played hard in that game, it'd be the best watch ever. Somehow our athletes, our players, think that people are coming to watch them get out of the way for each other to watch them dunk… They want to see competition."
Your thoughts on the players going overseas:
"I'm really surprised. Wilson Chandler, Kenyon Martin from the Nuggets both go sign overseas. Now the league in China I think goes to March and they have to stay the entire year. Some other guys in different European leagues, they have an out that immediately, when the NBA settles, they can come back. So I was really surprised in the people going to China and staying there, but I think it speaks to two things. One, it could be the pessimism those players have about the ability for a deal to come together and get done. And two, you just really don't realize how many NBA players live paycheck-to-paycheck. It's staggering how many players, even with the sums of money they make, don't do a great job of saving it."
On how not getting paychecks could affect lockout talks going forward
"A lot of guys, they can't go the year without making money. We're going to see. I think the first checks are supposed to come out Nov. 15 if the season started. If you start missing those checks, we're going to see how much pressure that puts on the union."
What do you think is going to happen?
"I think we're going to miss games, but I think they'll play, either starting on Christmas, or before Christmas. That Christmas Day is a big day for NBA basketball. I think in that area or before. I don't think it's going to extend as long as the lockout in 1999."
This post, written by Eric Schmoldt, appears courtesy of Sports Radio Interviews. For the complete highlights of the interview, as well as audio, click here.
More from Sports Radio Interviews
• Tony LaRussa is "real excited" about the playoffs.
• Derrick Mason wants to make nice with Bill Belichick.
• Rick Adelman attempts to explain why he took the Timberwolves coaching job.