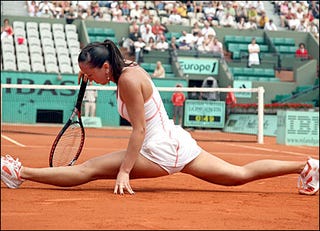 Not a good week for highly-ranked Serbian women, as third-ranked superstar Jelena Jankovic went down in the fourth round this morning at Wimbledon. Jankovic, known for her salty toughness and her love of Lita Ford's wardrobe, was bounced by the 60th ranked player in early morning action.
According to the Telegraph UK, Jankovic had a bum knee which hampered her performance, but she also treated her opponent very lightly prior to the match. In fact, she didn't even know her name.
After making the fourth round of Wimbledon at the weekend, Jelena Jankovic didn't have any idea who she would play next.She was told it was "a Thai girl", to which she responded: "Tiger? Tiger Woods? Are we playing golf on grass or what?"
No, her name is Tamarine Tanasugarn, and she just beat your big ol' Serbian ass 6-3, 6-2.












Jelena Jankovic Crashes Out To Tamarine Tanusagarn [Telegraph UK]