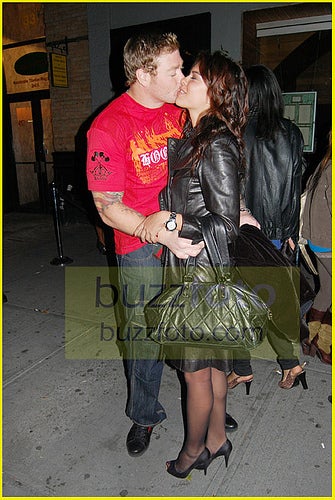 This is Jeremy Shockey. You might remember Jeremy from the time you drafted him two rounds too high in your fantasy draft because a) He played in New York, and b) You're subconsciously just a bit racist. Jeremy, seen here trying to convince a woman to go home with him so he can give her Hepatitis Q, has been traded to the Saints for a 2nd round pick and a 5th round pick. Jesus, a second round pick? I wouldn't trade half a bag of Munchos for Jeremy Shockey.
Shockey's rift with the Giants front office (and with anyone associated with the Giants in general) made his departure something of a fait accompli. And Saints coach Sean Payton has reportedly coveted Shockey for quite some time now.

Payton often wears a visor on the sideline. And, if there's anyone who likes Jeremy Shockey, it's guys who wear visors. Shockey will be counted on to help bring the Saints' passing game back to where it was in 2006 (not bloody likely). He'll also be asked to prematurely showboat for the cameras during any last-second losses.
Shockey will also try to help aid in Katrina recovery efforts in his new hometown by throwing himself birthday parties and charging all invitees $50 at the door. $10 off if he thinks you have cute tits.
Shockey leaves behind a mixed legacy in New York. And by mixed, I mean pathetic. He was drafted to be the spiritual heir to Mark Bavaro. But Bavaro was quiet, humble, productive, played through injury, and wasn't a complete moron. Shockey, as you know, turned out to be quite the opposite. No one was better at dropping a pass, and then standing around like an idiot and acting shocked at having dropped a pass. "Brah, I can't believe I dropped that pass!" He leaves town as the tight end equivalent of Brian Bosworth.
So long, Asshooligan. I'm pretty sure The Big Apple will survive without you.