The Dallas Cowboys' enviable quarterback question, which rookie Dak Prescott effectively answered with his play, has been flipped on its head: Why not use backup Tony Romo as you would, you know, the backup, and protect Prescott for the games that really matter?
Prescott took every snap in the Cowboys' 42-21 win over Detroit, which was apparently always the plan ("Dak was going to play this game," Jason Garrett said), and there was value in giving him reps against a postseason-caliber Lions team playing for its life, and who could conceivably end up a playoff opponent for the Cowboys. And, opponent aside, any reps are useful for a QB making just his 15th career NFL start. But beginning around the time Prescott took a tough second-quarter hit, slamming his head off the turf, and coalescing when Prescott trotted back out there with a late three-score lead as the home crowd chanted Tony Romo's name, the issue is real and is going to last all week: At what point do you bring in Romo to protect Prescott, upon whom the Cowboys' January dreams significantly ride?
This was a meaningless game for the Cowboys, who have clinched the NFC's No. 1 seed and home-field advantage through to the Super Bowl, if they can make it. Next week is just as meaningless, in Philadelphia against the Eagles. Whatever can be gained from that game is insignificant compared to what could be lost if any key players—yes, Prescott is one—suffer a serious injury.
In Jerry Jones's postgame comments last night, he appeared to state firmly that Prescott will play, and, weirdly, seemed more concerned about protecting Romo than protecting his starter.
"We don't feel like any game we'd get from [Romo] stepping out there running some plays, several plays, a series of plays would be worth the risk," Jones said. "I think we pretty much stay to plan. It wouldn't surprise me to see us get some of the same snaps."
[...]

"We're just not concerned about him having play time," Jones continued about Romo. "But sure wouldn't want him to get any time other than playing behind our first."
G/O Media may get a commission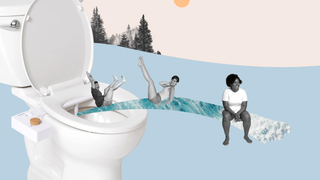 17% off
Tushy 3.0 Warm Water Spa Bidet Attachment
"Our first" being the first-team offensive line, and it seems almost assured that the Cowboys will be playing at least a couple backup O-linemen in Philly. Which would seem an even greater argument for keeping Prescott out of harm's way in a game with nothing on the line.
It's a strange little situation for the Cowboys, where their No. 1 is clear but their No. 2 isn't being treated like a No. 2, but as an emergency No. 1 who won't be risked with nothing on the line. Romo's ostensibly totally healthy, and has been practicing for nearly two months, including reps with the first-team offense. But they're treating him like he's more fragile than Prescott (which is probably true), and like he's more irreplaceable than Prescott (which is very untrue).
And, not for nothing, they're also treating Romo like he's trade bait whose value can only decrease with playing time.
Jones said he doesn't want Romo to take a single snap in Week 17 "because I don't like the circumstance it would come under, which would be injury [to Prescott]." That seems unambiguous. Prescott will be the starter against the Eagles. If they're not totally insane, they'll activate their third quarterback for the game and take Prescott out after a few series, and then it will be Mark Sanchez's time to shine.