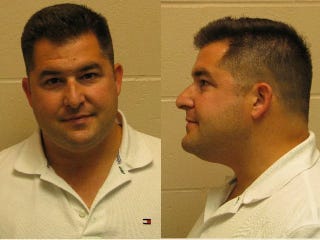 Jon Sandusky, the adopted son of former Penn State defensive coordinator and convicted serial pedophile Jerry Sandusky, was arrested on the suspicion of driving under the influence early Tuesday in Fargo, N.D.
Sandusky, 36, is the Cleveland Browns director of player personnel.
The Forum of Fargo-Moorhead reported that a cop watched as a vehicle Sandusky was driving made an illegal turn at an intersection around 1:50 a.m. The officer pulled the vehicle over and gave Sandusky a DUI after administering field sobriety tests.
It is believed Sandusky was in Fargo to scout the North Dakota State football team.
Jon Sandusky is one of six children adopted years ago by Jerry Sandusky and his wife, Dottie, who learned years ago that they could not have children of their own. Jon Sandusky has worked as the Browns' player personnel director since January 2010.
Mug shots via Cass County (N.D.) Jail