In his first public comments since DE Ray McDonald was arrested on suspicion of domestic violence after an alleged incident involving his pregnant fiancée, 49ers coach Jim Harbaugh did not mince words.
"I'll be very clear," Harbaugh said on the KNBR Morning Show. "You ask me how I feel about domestic violence. I can be very clear about that. If someone physically abuses a woman and/or physically or mentally abuses or hurts a child, then there's no understanding. There's no tolerance for that."

When asked if he would not allow a player guilty of domestic violence on his team, Harbaugh answered, "Yes, we would not. We can be very clear."
Jokic? Embiid? The NBA MVP is obvious... right? | Keep it a Buck(et)
The Niners were a little less clear on whether McDonald will remain active as team security, police, and perhaps eventually prosecutors complete their investigation. GM Trent Baalke held a contentious press conference with reporters, in which he repeatedly dodged questions about McDonald's status for Sunday's season opener.
-Q: What's the process to determine whether Ray McDonald plays Sunday or if he ever plays again for the 49ers?

-BAALKE: Well, right now it's a legal matter. There's such a thing called due process, and we intend on letting that play out.

-Q: Is the way you handled the Aldon Smith matter, when he was allowed to play two days after his arrest last year, a precedent for this matter?

-BAALKE: I don't think Aldon's case has anything to do with this case. They are separate issues and they will be dealt with separately.

-Q: Do you and the organization share Harbaugh's stance that there's no room on the team for someone guilty of domestic violence?

-BAALKE:: I think this–this is certainly something that hits home for me. I've got two daughters myself. It's certainly, domestic violence is unacceptable, and it certainly won't be tolerated.

-Q: Will McDonald play Sunday against the Cowboys?

-BAALKE: That remains to be seen. Once again, it's due process.
There is no playbook on how to deal with players going through the legal process—only that due process, which refers to state prosecution, doesn't apply in a private workplace. The NFL pretty much set that precedent when it announced Ben Roethlisberger's six-game suspension (later knocked down to four) less than a week after prosecutors decided not to charge him.
The 49ers, too, have something of a precedent here: last season they let LB Aldon Smith play two days after a DUI arrest, then shipped him off to rehab right after the game. (Smith returned to action five weeks later, despite racking up felony gun charges for an earlier incident in the meantime. He's serving a nine-game suspension to start this year.)
"The truth will come out," said McDonald after he posted bail, and from a pure football point of view, the Niners would be dumb to make their starting DE inactive before knowing exactly what went on. But, fairly or not, there's going to be more heat on them than in instances past, if only because the NFL has decided to turn its response to domestic violence into a PR opportunity. (And, not for nothing, because the 49ers lead the league in arrests since the beginning of Harbaugh's and Baalke's tenures.)
G/O Media may get a commission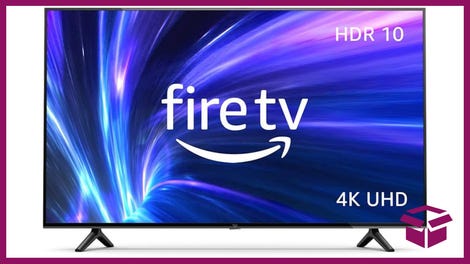 42% Off
Amazon Fire TV 50" 4K Smart TV
It's a shitty situation all around, but you won't find a bigger critic of the 49ers' sometimes-contradictory stance than the Mercury News' Tim Kawakami, a very good reporter who admittedly has an antagonistic relationship with the Niners' braintrust. Some good brickbat-tossing today from Kawakami, mixed in with some world-class insinuatin'.