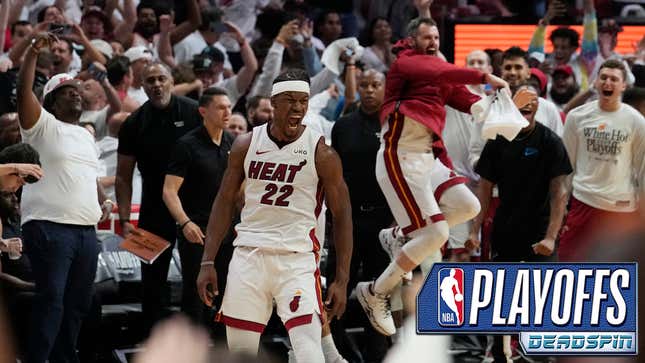 Monday night's pandemonium was indicative of the Miami Heat's Jimmy Butler era. Grinding and persevering have defined the Heat for the last four seasons. When the odds are against him, Jimmy Buckets rises to the top of the food chain, but Game 4 was the capstone in his postseason cap. In the pantheon of postseason performances, Butler's 56 points against the Milwaukee Bucks was a spiritual awakening. Butler came stomping into Game 4 in his Black Air Force 1s and left everything ounce of energy he had left on the floor.

Rob Riggle, Amin Joseph, Joshua Malina and more share NBA Finals predictions
The only playoff outputs that surpassed Butler manifesting a double-nickel, plus a penny he found in his couch cushions, were Donovan Mitchell's 57 points in an O.K. Corral bubble shootout against Denver, Elgin Baylor dropping 61 in the Finals and Michael Jordan's 63 making Larry Bird believe he was God in human flesh.

Playoff Jimmy Butler > regular season Jimmy Butler
Miami needed every. single. point. In the absence of Victor Oladipo, who was lost to another devastating knee injury, and Tyler Herro whose broken hand will take six weeks to heal, it took a heroic effort from Jimmy Buckets to keep the Heat within striking distance. He started pouring it on early, scoring 20 consecutive Heat points in the first quarter — 22 of his team's 28 in the frame — but the fireworks climaxed in the fourth quarter. Trailing 101-89 with 6:08 remaining against the 2021 NBA champs — who haven't been eliminated when fully healthy and boast a two-time MVP unicorn recognized as the most dominant force in the NBA — Miami's crunchtime king turned it up a notch. Butler scored on a barrage of pull-up threes, jumpers, assaults on the rim, and when all was said and done, he'd scored or assisted on 22 of Miami's 30 points in the final six minutes.
"We knew what we were capable of, even if nobody outside of this building, outside of this roster and outside of this organization believed in us," Butler said. "That's fine. We just want to continue to do what we know is possible."
Milwaukee not looking like a No. 1 seed
Nine days ago, Milwaukee marched into the postseason as a top-five defense. Butler sliced through them with the precision of a surgical scalpel. 1,000 cuts later, Miami was up 3-1 over the Eastern Conference's No. 1 seed. Following a muddy season, in which Miami played more clutch minutes in the regular season than all but one team, they limped to the eighth seed after getting crushed in their play-in opener by the Atlanta Hawks.
Butler seemed to have missed his moment when his transition triple being declined by the rim in last year's Conference Finals was his signature playoff moment to this point. Miami might seem overqualified for the No. 8 seed, but during the regular season, Miami's shooters developed a fatal attraction with shots from beyond the arc. Spoelstra's perimeter-oriented offense earned the fourth-worst three-point shooting percentage in the league while attempting more triples than a third of the league, equated to an offense that finished dead-last in scoring and 25th in offensive rating. In the first round, Miami started a brush fire from distance, leading all postseason teams in offensive rating and 3-point shooting percentage.
Butler has the repertoire of a construction worker, but his stage presence in dramatic moments has reached all-time status. His no-frills breakdown of defenders out of the triple threat, bull rushing through the lane on drives to the rim, or his vanilla pull-up triples may not be as appealing as James Harden's shimmies and shakes, but it gets the job done.

The disparity between Playoff Jimmy Buckets and regular season Jimmy Butler is in direct contrast to Harden in that sense. One is ballooning into his Steven Seagal era while the other looks like he spent the summer training with Wesley Snipes. Through Philly, Brooklyn, and Houston, we are still waiting for a signature postseason showcase game on Harden's résumé.

In an era where superstars linked up to ring chase with pals, Butler took two steps back by vacating his spot as Joel Embiid's right-hand man to assume Dwyane Wade's South Beach throne on a below .500 team devoid of All-Star talent.
Led by Butler, and half of a roster they mined from the depths of the G League, Pat Riley's platoon of lunchpail hoopers is one of the most resourceful groups in the league. They're used to doing everything the ugly way. Sorry to disappoint the esteemed scribe, Stephen Knox, but Miami is one step closer to finessing their unseasoned stone soup offense into the next round.

---
Follow DJ Dunson on Twitter: @cerebralsportex