No one in Chicago is talking about the third quarter of last night's Bulls game, when the team held the Toronto Raptors to 14 points right in front of Drake and God. Everyone is, rather, talking about the fourth quarter, when Derrick Rose left what was on the verge of becoming a nearly close game after collapsing while doing nothing that would obviously have led him to collapse, leaving everyone watching to wonder exactly what he'd done to which of his legs this time.
As it turns, the injury was a minor left hamstring strain. This is good in that that watching him go down in slow motion could have convinced you that he either has no bones in his legs or had just broken one or more of them in ways that would make an x-ray look like a work of inspired Cubism. It's bad in that Rose appears to be unable to play basketball without stretching, straining, or snapping something, which could lead one to all sorts of worried thoughts. Maybe these are cascade injuries, caused by him favoring his reconstructed knees? Maybe he's just too worried about future business meetings and high school graduations? Maybe he'll never be right again ...
These aren't totally unreasonable concerns, but Joakim Noah has a message for everyone who's freaking out over Rose: "That's so fucking lame to me. Relax ... chill the fuck out."
This is pretty damn good advice, especially for the contingent of the Chicago media that's definitely going to take Rose's latest woes as a chance to portray him as a greedy, jaking moron. Either Rose is going to get straight or he's not; mass caterwauling isn't going to make a bit of difference, and the Bulls are going to have to deal with it either way. That will probably be a little easier if everyone accepts that Rose is out here trying, and that shit just happens sometimes.
G/O Media may get a commission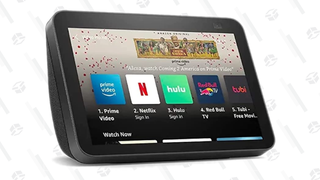 Photo via Getty