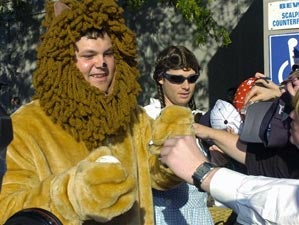 By now, you've probably seen these photos of various New York Yankees rookies dressing up like characters from The Wizard Of Oz. We definitely enjoy Joba Chamberlain's impersonation of a f—k lion.
But, as 100 Percent Injury Rate points out, the Yankees can't quite compete with some of the other great rookie hazings this year.
They put the Pirates and the Dodgers at the top of the hazing list, and after looking at the Pirates picture, it's difficult to argue:
Baseball players are weird.
Damage From Rookie Hazing Week [100 Percent Injury Rate]