Next week brings the joyous return of Joe Buck's Cavalcade of Sporting Chit-Chat and Penis Whimsy, now with what promises to be a marked emphasis on the former over the latter, unless Joe Namath is off the wagon again.
We all remember what happened last time. Joe Buck has responded by putting together the dullest and most white-bread hour of sports-related programming this side of the Bassmaster Classic. The guests: Dan Marino, John Elway, Curt Schilling, Mark Cuban, Jerry Jones and Namath, who threatens to be mildly interesting but who will probably wind up talking earnestly about sobriety. Role models! Life lessons! White people! This is basically Joe Buck's wet dream of a show.
And get this: You can watch it live!
HBO's JOE BUCK LIVE RETURNS WITH A NEW EDITION

FILMING TUESDAY SEPT. 22nd
at the Equitable Center Theater (7th Ave. at 51st Street)

BE PART OF OUR EXCLUSIVE AUDIENCE!

The second edition of Joe Buck Live features NFL Greats Joe Namath, Dan Marino and John Elway, Pitching Star Curt Schilling as well as Mark Cuban, Owner of the Dallas Mavericks and Jerry Jones, Owner of The Dallas Cowboys. All our guests are scheduled to appear live on the stage of the Equitable Center with Joe Buck. Filming in front of our live studio audience in New York City, this new hour-long edition of the Joe Buck Live show will include live interviews, panel discussions and pre-recorded features. You won't want to miss what promises to be an engaging, informative and entertaining evening of TV.

To attend this exclusive JOE BUCK LIVE show on TUESDAY, SEPT. 22nd, YOU MUST BE AVAILABLE BETWEEN 8:30PM and 11:30PM. It will air on HBO simultaneously with repeat broadcasts at later dates. RSVP quickly as there are limited tickets for this event. YOU MUST BE 18 YEARS OR OLDER TO ATTEND THE SHOW AND YOU MUST LIVE IN THE NEW YORK CITY AREA TO BE ELIGIBLE FOR TICKETS OR BE IN NYC DURING THE TAPING WEEK. TICKETS ARE COMPLIMENTARY.

If you are interested in being part of the JOE BUCK LIVE SHOW, please email us at joebucklive@broadwayvideo.com with the following information in both the subject line and body of your email:

1. Your full name
2. Your email addressOne which will not put our reply to you in your trash
folder and one which you check frequently.
PLEASE ALWAYS CHECK YOUR TRASH FOLDER JUST IN CASE!3. Your phone number(s)
4. Your age range (35-40, 18-25, 50-55 etc.)
5. Number of tickets — 2 tickets is the maximum number we can allow per
request. SINCE THIS IS A LIVE EVENT WE EXPECT THAT IF YOU ASK FOR TICKETS
YOU WILL BE USING THEM. Thanks.6. Do you consider yourself a big sports fan
— which sports (you can put this inthe body of the email)

Example: Tina Hays /haystina@sportsworld.com /(212) 555-1212 /25-30/2 tickets/big fan – football & basketball

We will contact you via email with a detailed ticket confirmation if there are tickets available. You should hear from us within a few days of your request but at latest by FRIDAY SEPT. 18th, 2009. PLEASE DO NOT EMAIL US DUPLICATE REQUESTS, THIS IS CONFUSING FOR US AND WON'T HELP YOU GET TICKETS.

Come join us for an insightful look into the sports world from JOE BUCK and the award-winning team at HBO SPORTS.
EMAIL ~ joebucklive@broadwayvideo.com
G/O Media may get a commission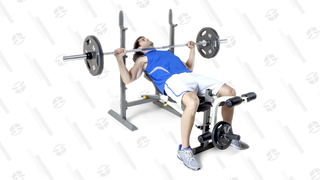 10% Off
Marcy Folding Weight Bench
Don't miss it! Joe Buck's back on cable, and for one night next week, we'll all be lucky Pierres!
EARLIER: Watch Artie Lange Crap All Over Joe Buck's First Show