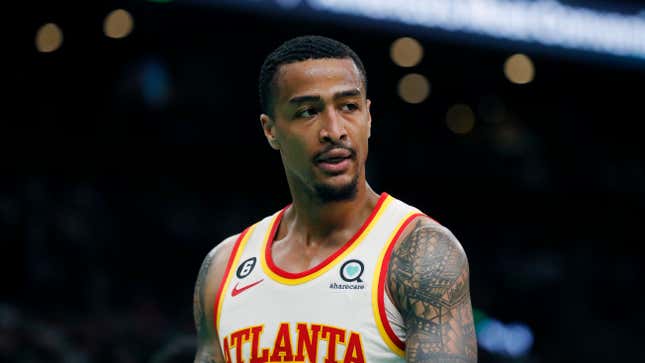 The Atlanta Hawks finally decided that the talent of John Collins wasn't financially worth his on-court production. After six seasons with the Hawks, he was traded largely as a salary dump. Per ESPN's Adrian Wojnarowski, they sent him to the Utah Jazz for Rudy Gay, who is on an expiring contract, and set to make nearly $19 million less than Collins for the 2023-24 season.

Jordan Poole ruins Golden State Warriors comeback and… we're being too hard on him | Keep it a Buck(et)
Gay has not played 60 games in the last two seasons, nor averaged 10 points per game. Collins has started nearly every game in which he has been healthy for the Hawks since his second NBA season. During the COVID-interrupted 2019-20 campaign, Collins appeared on his way to stardom.
An athlete explosive enough to be invited to participate in the 2019 slam dunk contest, averaged 21.6 points per game and 10.1 points on 58.3/40.1/80 shooting splits. The Hawks were terrible that season, but then rookie Trae Young's steady improvement to go along with Collins' breakout showed promise for the franchise's future.
Certainly enough for the Hawks to decide to ink Collins to a 5-year, $125 million deal after 2020-21. The young Hawks turned that sour 20-47 record into an appearance in the 2021 Eastern Conference Finals. However, since then the Hawks regularly leave behind a bad taste for those who watch them play.
For a player as big and athletic as Collins, defense is not a strong suit. Tack on output that has dropped like a lead weight the past two postseasons, the Hawks could not justify the expense of a roster that could reach the dreaded new second apron, luxury tax. Something had to change after consecutive play-tournament appearances.
With a third head coach in the last three seasons, the timer has been set on Young's future as the Hawks' No. 1 option. The talented guard has been reported to be difficult to get along with throughout his career. But Young is capable of running an offense as well as nearly any player in the league and is always a threat to unleash a monster scoring quarter that can nudge the Hawks across the victory line on any given night.
So off Collins goes from Atlanta to Salt Lake City, less than a week after the Jazz's 2022 roster teardown resulted in them receiving the ninth-overall pick in the NBA draft. Most certainly a climate transition, but maybe it will be for the best. Maybe a locker room that refused to tank after two all-stars were removed from it is just what Collins needs to get back to 2020 form.
And for the Hawks, they saw that they had spent unwisely on their current roster, and needed to make significant changes. For now, the two sides have to hope that they will both be better without each other in the long run.