Every week, John Salley, onetime Bad Boy and currently the arachnoid half of the Spider and the Henchman podcast, will regale us with an amusing and occasionally salacious story from his playing days. Today: our hero meets a couple of girls who are down for far too much.
All-Star Weekend, my wife wanted to go out with me. Now, this is a trip, because I never really take my wife out. She's very pretty, very attractive, and I don't want her around the wolves. I just don't. I don't want her to walk into the bathroom. I don't want her around the wolves.
I see a couple of women. We'd call them hos. And I asked my wife, "Can you tell the groupies apart from the future wives?"
"They're all future wives," she says.
"What do you mean?"
"Well, you guys call 'em groupies, but this all you have to choose from."
And then I say, "So now you understand why I had to—"
"No, you're an asshole, because you would partake knowing you had a wife at home. And you're just lucky that I'm a cool chick and understand that you're an asshole, and that you were going to wear down."
G/O Media may get a commission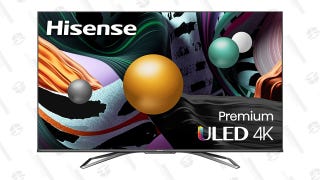 Save $350
Hisense ULED 65" Android 4K HDR Smart TV
But two of the hos walked up to me, and started talking to me, like "Hey, John!" And so I say, "Hey, what's up. This is my wife." But I forgot—they were bisexual. These were the girls that do everything.
And so they say, to my wife, "Oh, you're fine!"
"Get away from my wife!" I said.
"Why you want us to get away from your wife? We ain't gonna take your wife!"
Meanwhile, my wife is looking at me like, who are these bitches? These are the ones who do whatever needs to be done and get their rent paid, I told her.
I was worried about having to spend the night protecting assholes from squeezing my wife's ass, acting like they were drunk. Instead, I got these two bitches offering to walk with her to the bathroom.
I told her, "Don't go to the bathroom with these broads."
[Hench wonders what would have happened had Salley's wife taken an interest in the girls.]
Well, then it would have been on and popping, and I would have had the video, because I tape everything. "And if you decide to call rape, I got the little hooker on tape," as Ice Cube would say.
The above is adapted from the "Spider Stories" segment on the Spider and the Henchman podcast. Follow John and his podcast on Twitter: @thejohnsalley and @spiderandhench. Subscribe on iTunes.