Every week, John Salley, onetime Bad Boy and currently the arachnoid half of the Spider and the Henchman podcast, will regale us with an amusing and occasionally salacious story from his playing days. Today: Toronto's weird effect on NBA players.
Now, if you don't know, I was on the Toronto Raptors their first year, 1995-96. Isiah Thomas was the owner. B.J. Armstrong and I were all in the expansion draft. I had to leave Miami, which I didn't really want to do, even though at the time the asshole general manager—you can look it up—was busting my ass, never mind that I played hurt all year because of Rony Seikaly's injury.
Anyway, I go to the Raptors and I'm sitting there and it's a big day for some reason. Isiah takes me and B.J. Armstrong in a car, and I think we're going to the airport. No, it's a party. This schmooze thing at, like, 6:30 p.m. at a beautiful place in Toronto.
So, we open the door, and Isiah asks B.J. what he thinks. Now, B.J. and Isiah are both from Chicago, got the same tone, and B.J. says: "Thanks, I appreciate it, Zeke, but you gotta get me outta here. I can't play here." So he works a deal and gets rid of B.J.
So, Isiah goes to to me, "Hey, Sal, what are you thinking?"
I'm like, B.J. knows something I don't know. I need to get out of here, too. So I tell him, "Hey, if you can hook it up, I'd love to leave."
G/O Media may get a commission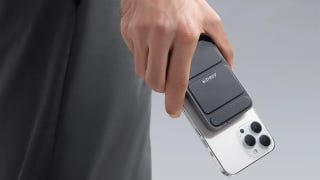 15% off
15% off Anker Top Ten Products
Take charge
Treat yourself to a portable power bank, a magnetic wireless battery for iPhones, or even a solar generator. There is a reason these are in the top ten. For instance, the Anker 747 Power Bank is a 4-in-1 charger utilizing USB-A and USB-C to be capable of charging up to four devices at once. Great to take with you when traveling and in need of keeping your phone, laptop, and even Nintendo Switch powered on.
But Zeke is like, "Well, there's three things with that. Orlando wants to give me Anthony Avent and this other white player [Brooks Thompson or Jeff Turner]. I'm not doing that."
And I'm thinking, "C'mon, I wanna play with Shaq and Penny! I won't even play, just get a check and sit in the sun. C'mon, man."
And he tells me: "Chicago wants to give you a gig, but they've got Dennis Rodman and James Edwards. And you know Detroit wants you back, but you know I'm not negotiating with them. Listen. This is going to be a great place for you."
I'm looking at him like, please, please, massa, let me go. And he doesn't trade me. He's got three offers for me, and he still won't trade me.
But he says that Toronto's going to be a spot. That I'll be able to own the town. I buy into it.
I had no idea what I was getting into. Every day in the newspaper was a full page explaining a referee's call. They had to explain basketball to these people.
The team was full of these characters, too. There was Carlos Rogers, Oliver Miller—people forget because of the weight thing, but the Big O could play—and Alvin Robertson. Alvin Robertson was the scariest player I ever played against. He would beat the shit out of anybody. If you told me to put together a team of all the old-timers, it would be Alvin Robertson and Sidney Moncrief—just tough dudes.
Now, Alvin Robertson gets arrested the night before our first game for kicking a naked prostitute out of his hotel room after deciding he didn't want to pay. He gets bailed out the next day at like 3 in the afternoon and our game is at 7. He goes out and leads the team in scoring and we win the first game. That's when I knew that season was going to be weird.
[Ed. note: It seems our storyteller has taken a bit of poetic license. Robertson was arrested on an assault charge Oct. 28, 1995, after what media reports described as an "incident" with an unidentified Toronto woman. In the Raptors' first game that season, on Nov. 3, Robertson led the team with 30 points, and Toronto defeated New Jersey, 94-79.]
The above is adapted from the "Spider Stories" segment on the Spider and the Henchman podcast. Follow John and his podcast on Twitter: @thejohnsalley and @spiderandhench. Subscribe on iTunes.