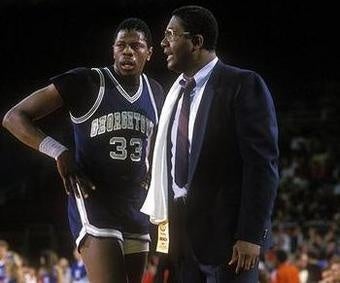 There are few people in this country who have done more for young black men than John Thompson. So if he tells you your basketball team needs more "thugs," well... you better trust him.
There's nothing wrong with going into the family business, but as John Thompson III can tell you, it does make things harder when your dad retires, hands the reins over to you, then gets his own radio show where he can criticize everything you're doing wrong. Like your team's rebounding—which has been highly deficient in Georgetown's Big East games this year. But certainly John Thompson, of all the people in the college basketball world, should know that suggesting his son add more "thugs" to increase the team's toughness might be a slightly uncomfortable way of phrasing things.
As Rush The Court points out, what would the younger John Thompson have said, if some pansy-ass white sportswriter has called the players on his mid-80s teams thugs? (Which they sorta were.) Or Allen Iverson, for that matter? (No comment.)
I mean, he is right—Georgetown's rebounding stinks and everybody can use a good thug—but how about a little sensitivity coach?
JT2 to JT3: Georgetown Needs More Thugs [Rush The Court]