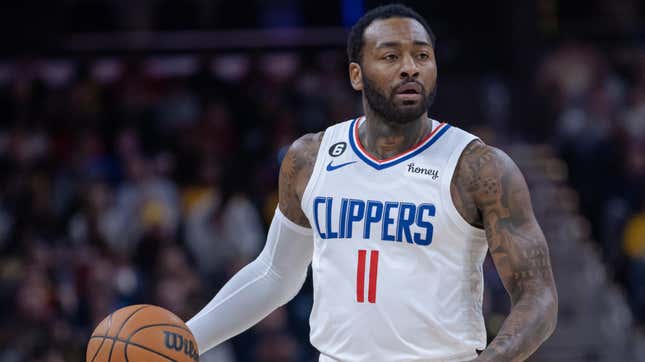 After a short stint in Los Angeles with the Clippers last season, John Wall was traded to his former team, the Houston Rockets, then released a few days later. Now Wall is a free agent and holding a private workout for teams in Las Vegas Sunday in hopes of sparking interest and signing with someone for the 2023-24 campaign.

Rob Riggle, Amin Joseph, Joshua Malina and more share NBA Finals predictions
In the last four years, Wall has only suited up for an NBA team in two of those seasons. He missed the '19-20 season with multiple injuries. Wall played in only 40 games the following year for Houston, then sat out all of '21-22 after the Rockets sent him home. This past season, Wall finally returned to the hardwood with the Clippers and played in 34 games with the team before they decided to cut bait and send him back to the Rockets.
Wall will have turned 33 years old by the start of the '23-24 season, and after missing so much time with injuries the past few years, he can't afford to miss another one. He showed he could still contribute, with the Clippers averaging 11.4 points per game and 5.2 assists primarily coming off the bench. Wall is no longer the explosive player he was in Washington, but he could still play a significant role on the right team.
At this point, it won't cost a team much toward the salary cap to sign Wall, so it'll largely be about fit. An established team with championship aspirations is most likely the best scenario for Wall. When he was released by the Rockets in February, it was reported that Wall was interested in joining the Miami Heat, Milwaukee Bucks, or returning to the Clippers. Obviously, none of those teams picked him up then, but that was the midseason. Working out for teams in the offseason lends a different opportunity and could work out better for Wall, who clearly feels he's got another year or two left to give an NBA team.