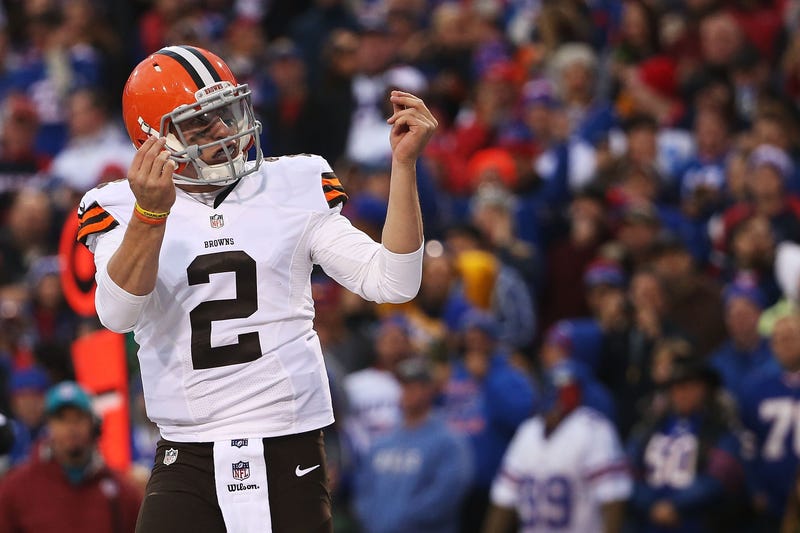 After coming on for Brian Hoyer in the fourth quarter, Johnny Manziel led Cleveland to its only touchdown of the game. That—or Hoyer's general effectiveness—appears to have been enough to earn Manziel the job. From everything coach Mike Pettine had to say afterward, it sounds like this season's most-hyped rookie has been handed the keys to the Browns.
"The door is definitely open for a change at the quarterback position," Pettine told ESPN's Sal Paolantonio. "It's not like we're just going to go back to Brian."
When Hoyer threw his second interception early in the fourth quarter of an eventual 26-10 loss to the Bills, Pettine walked over to Manziel and told him to get ready. Manziel led the Browns on a nifty little drive, completing three of four passes and going 80 yards in 3:14, capping things off with a 10-yard rush for the score—and, of course, the "money" sign.
Manziel's second drive wasn't so hot—he ended up pancaked in his own end zone—but even that was better than what Hoyer's been giving the Browns over the last few weeks. Everyone assumed Hoyer was just a veteran stopgap until Manziel was ready, but he was one of the early season's biggest surprises, even reportedly seeking a big contract as he led the Browns to a 6-3 start. But Cleveland wouldn't talk contract, and wisely so; in his last three starts, Hoyer has put up increasingly dire performances, throwing just one TD to go with six interceptions.
The Browns are now 7-5 and in a three-way tie for second in the muddled AFC North, and though Hoyer says he's "without a doubt" the guy to lead Cleveland to the playoffs, Pettine sounded like a coach a couple days from announcing a change.
"This has been a cumulative thing," Pettine said, "where discussions about a change at quarterback have been more and more lively. We'll evaluate both quarterbacks and have a decision soon."
Manziel says it's what he's been waiting for.
"It's obviously up to coach Pettine and some higher up people than me in this organization," he said. "If that is the case and my name is called, then I definitely will be ready...

"Maybe get a chance to start at home? Cleveland fans are nuts.''
In their final four games, the Browns have the Colts and Bengals at home, then head on the road for the Panthers and Ravens. It's not going to be easy—the loss of center Alex Mack last month crippled the running game and has given Hoyer fits—but this is about the long game. Things are trending upward in Cleveland, and Manziel, for better or for worse the quarterback of the future, is finally getting to stretch his legs.