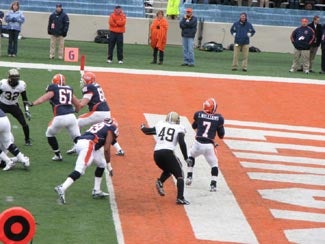 We are exactly three weeks from the start of the college football season — LSU is at Mississippi State in ESPN's opener — and that's sooner than we realized. Which means it's probably time to put together our Pants Party Pool.
As always, we'll be using ESPN's fantasy format, because they don't limit you to 50 participants. It's a confidence pool — 10 points for the game you're most confident in, so on — and the first week's games include Illinois-Missouri. (You will recognize the familiar site of Juice Williams about to be sacked in the picture above.)
Anyway ... join the Deadspin Pants Party College Pick 'Em Pool. The winner will receive a bunch of books written by us, a free post and any tickets we might have lying around here. So join in now. It's never too early.
Deadspin Pants Party College Pick 'Em Pool [ESPN Fantasy Games]