Last night, Jon Jones sat down with Fox Sports 1's Charissa Thompson to explain what's happened since his successful UFC light-heavyweight title defense against rival Daniel Cormier earlier this month. Just days after the bout, news broke that Jones had tested positive for cocaine in a Dec. 4 drug test administered by the Nevada State Athletic Commission. This landed the champion in rehab; then, last week, it got worse for Jones.
Jones's own mother revealed that her son had spent just one day in the clinic before leaving, confirming a rumor floating around among fight types. UFC president Dana White then said that Jones hadn't left a drug treatment facility after 24 short hours, and would address the subject in an interview with Thompson.
We knew what this would be—there was a non-zero chance Jones was going to call his mama a liar on national television!—and that's what it was. This was a dude trying to repair and reinforce a public brand made of smoke and mirrors and built on sand.
Before we got to that, though, Jones had to explain how he'd learned about his failed drug test, and then address the cocaine use itself.
G/O Media may get a commission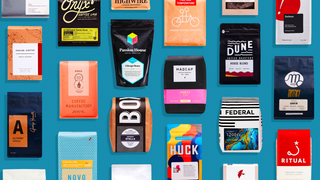 Get $25 free
Trade Coffee - National Coffee Day
"How often had you used cocaine up until that point?" Thompson asked him.
"Well, you know, I had done it before quite a few times in college," he said. "I experimented with it. But that is really it, you know. Mainly just college."
Jones's admission that he was the unluckiest cocaine user in the world was so shocking that Thompson had to repeat the question.
"You did it in college and the one time before the fight," she clarified. "And that is the only time."
"Yeah," Jones said. "Pretty much."
(This is almost certainly not true.)
The 27-year-old then talked a bit about his family's reaction, and said his brothers Art and Chandler, both defensive linemen in the NFL, were disappointed.
"I think I embarrassed them in the locker room with their teams," Jone admitted. He then bizarrely added: "One of my brothers said they see it a lot in the NFL. It is not as public."
"Will you stop partying?" Thompson asked, after Jones hand-waved away the trip to rehab by explaining that doctors there talked to him and, after 24 hours, determined that outpatient care and weekly drug testing would work just fine for him. "You won't do cocaine again."
"I am not going to say I will never have a drink or, you know, enjoy life," Jones said.
It was an honest answer! Yesterday, this tweet went out and then went away.
It was a strange and overall bullshit interview, but one much in line with what I wrote about Jones in a profile Deadspin ran last month. The only reason this episode matters isn't that it's particularly novel or tragic that a prideful, 27-year-old rich dude who beats people up for a living indulges in an expensive drug that allows him to bathe in his own excellence well into the morning, but that he fails so spectacularly in pretending that he is, in fact, the same choir boy he was growing up. It's cosplay. It's bad cosplay.
The UFC fined Jones $25,000 for violating the organization's code of conduct. The next time he takes the ring, we'll watch as he's presented as a man strong enough to emerge unscathed from a fiction of his own devising. And then he'll win again.
[Fox Sports 1]