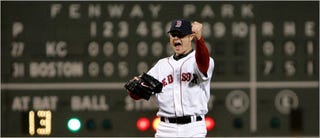 From Victor Conte and Barry Bonds to Brian McNamee and Roger Clemens, baseball has given us every reason in the world lately to be cynical, and yet we are not. The reason for that became evident once again on Monday night in Boston, when Jon Lester — who had beaten cancer just over a year ago — threw the 18th no-hitter in the history of the Red Sox, beating the Kansas City Royals 7-0. I won't say something preposterous like "Today, we are all Red Sox fans," but I'll go out on a limb and say that today most of us are Jon Lester fans. How could you not be? Especially since the celebration came complete with a live F-bomb! What a glorious evening.
"His story is a good story as it is," Boston third baseman Mike Lowell told the Boston Globe. "But to add a no-hitter to it, it adds something great to the story. I think people will now remember what he did tonight on the mound as something special, instead of he's a young kid who had cancer. It shows his ability has come full circle. Besides the no-hitter, he shows he can really shut down a team, because he has that kind of stuff."
Of course, Lester doesn't want to be known simply as the pitcher who beat cancer. As soon as he returned to his locker, he plopped the game ball into his cowboy boot and began talking of his next outing. "It was a long road back," Lester said. "And when I did get back, I wanted to be at a certain level. And I wasn't at that level. It took awhile. It was tough mentally and tough physically to go out and pitch every five days. It was a long road. I'm just glad that I'm here at this moment right now, and in five days I'll go and pitch again."
Lester (3-2) struck out nine, walked two and faced only two batters over the minimum. Center fielder Jacoby Ellsbury thwarted the Royals' best bid for a hit, making a diving, backhanded catch on Jose Guillen's sinking liner in the fourth. It was the fourth no-hitter caught by Boston's Jason Varitek, a major league record. Varitek also homered Monday.
The last no-hitter against the Royals? Why, it seems like yesterday: May 15, 1973, by Nolan Ryan.
• Umpires Flip A Coin, Again Get It Wrong. Chicago's Geovany Soto was credited with an inside-the-park, three-run homer in the fourth inning despite replays showing that it should have been an automatic home run. Oh well, he could use the exercise. Cubs beat Astros, 7-2. Fun fact: It's been almost 49 years since a Cubs catcher hit an inside-the-park homer. Cal Neeman's did it on June 17, 1959 against Pittsburgh's Harvey Haddix. Lance Berkman was 0-for-4, breaking his hitting streak at 17 games.
• Tanned, Rested And Ready. The Rays kept pace a game behind the first-place Red Sox in the East with a 13-inning, 7-6 win over the Athletics. Reliever Jason Hammel, who had not pitched for 11 straight days, threw three scoreless innings as Tampa Bay won on Evan Longoria's two-run homer in the 13th.
• Alyssa Milano Has A New Boyfriend. Hope you saved that Blake DeWitt card. The rookie's second run-scoring single of the game lifted the Dodgers to a 6-5 win over the Reds, breaking Cincinnati's six-game winning streak. DeWitt is 6-for-6 with 12 RBI with the bases loaded this season.
• Wizard Cat Defensive Player Of The Day. Jim Edmonds, Chicago Cubs. Whoa, Willie Mays-like! Wizard Cat gives this catch: Five wands.
Contact Wizard Cat at Wizardcat@live.com