Before we begin, a quick refresher on what it normally looks like when Jon Lester tries to throw to first base.
Yes, the Cubs pitcher's case of the yips has been extremely well documented, and even if he's made some progress, it's still an issue on the mind of every opposing team (and Cubs fan). So when Lester walked Ryan Zimmerman in the eighth inning of a one-run playoff game today, it was obvious to everyone at Wrigley that the Nats veteran would try and test Lester's ability to make a simple throw.
Lester tried his best, and somehow, he got incredibly lucky. After one misfire with no consequences, Lester gave it another go, awkwardly lofting a pick-off attempt that somehow, against all odds, found the exact right place it needed to be so Anthony Rizzo could tag Zimmerman out.
G/O Media may get a commission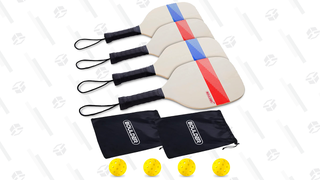 It's Pickleball
Pickleball Sets
It took replay review, but video evidence proved to any unbeliever that Lester had actually pulled it off. And Wrigley Field, knowing the rarity of what they just witnessed, gave Lester some glowing cheers.
Lester then surrendered a hit to his current batter, Daniel Murphy, and immediately exited the game to a standing ovation. He knew he couldn't do any better than that.