The A's, with the best record in baseball, are unequivocally going for it, acquiring starter Jon Lester from the Red Sox. But man, this was more than a typical deadline rental: the trade is reportedly Lester and Jonny Gomes for Yoenis Cespedes.
The details of the trade were first reported by WEEI's Alex Speier. Jeff Passan adds that the A's will also be sending a competitive-balance draft pick (slotted to follow the second round), while Boston is throwing in cash.
Billy Beane, just stockpiling pitchers—no matter how many starters they've got, Lester is a big weapon for the postseason. But he's a free agent after this season, and Cespedes is an awful lot to give up. The power-hitting outfielder is going to love batting in Fenway (and is a free agent after next season.)
Happy trade deadline day. Buckle your damn seatbelts.
Update: The A's have acquired outfielded Sam Fuld from the Twins in exchange for pitcher Tommy Milone. Oakland had DFAed Fuld in April, after he played just seven games for them, and Minnesota had claimed him on waivers.
G/O Media may get a commission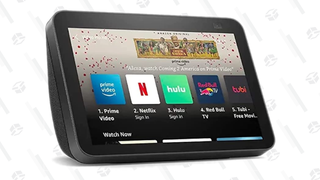 Update No. 2: The Red Sox are dealin'.