There's not much space at all between Ryan Miller's skate and the post, but Jonathan Toews used all of it on his backhand winner in overtime against the Blues. Toews gave the Blackhawks a 3-2 overtime win in Game 5 after he found himself at center ice all alone with the puck thanks to a Duncan Keith clearing attempt and a little (OK, maybe a lot of) luck. Things happen fast on ice, but Chicago now has a 3-2 series lead on a play that took about half-a-blink.
The whole play, from Keith's stick to goal, took about five seconds. The announcers weren't even sure what to do it happened so fast. "...He could end it...he does" sounds lackluster and anti-climactic, but think about it. Before you could even figure out how Toews was all by himself in the middle of the ice, and how the puck managed to land right on his stick, he scored. Your brain just can't process something that quickly. Words, just say words, dammit.
Corey Crawford actually gave up a big, juicy rebound on a shot from David Backes—in his first game back since Brent Seabrook's dirty hit—and Keith just swatted it away as St. Louis converged on the puck. Keith's sweeping clear then deflected off a teammate and wound up right on Toews's stick. Bad luck got even worse because while all this was happening, Blues defenseman Roman Polak went of for a line change.
"I just saw Backes skating with the puck," Polak said. "I saw Toews jumping on the ice there, so I went to change but I don't know what happened after. ... It was a lucky bounce or something.

"That's just a lucky bounce and we have to bounce back against Chicago."
And here is the exact same play, described by the winning side:
"I'm trying to get the puck out of the zone and all of a sudden it lands on his stick, couldn't believe it," Keith said. "So I was pretty happy seeing that. If we were to have a guy on the breakaway it would be him. He's pretty clutch when it comes to that. Nice goal."
G/O Media may get a commission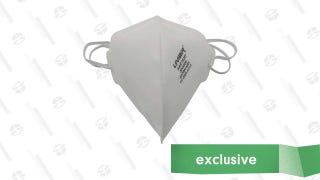 NIOSH CDC-Certified N95 Masks (10-Pack)
After the change, Jay Bouwmeester was forced to play catch-up as Toews was streaking to the net and he had no chance at all. By the time the puck hit his stick it was too late; it was either going to be a Miller save or a Toews goal. And it almost was a great Miller save, but his skate was just a fraction of a second late getting over to the post and Toews snuck it just inside. There were about 10 things that needed to go right for this goal to exist and they all happened in those five seconds.
The Hawks now go back to Chicago, needing one more win to advance. Selfishly, we hope it goes seven because we'll be sorry to see this series end. It's had everything: nut-grabbing, boob-flashing and four of the five games so far have gone to overtime.