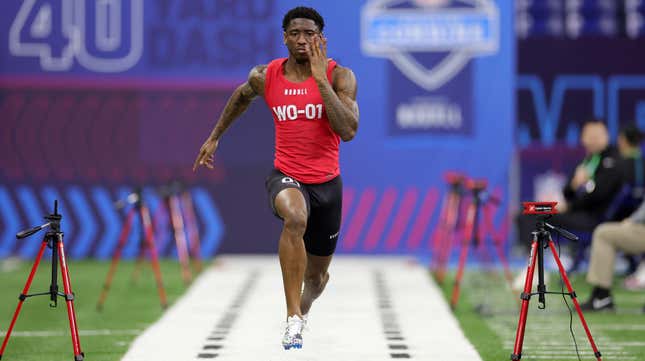 This time last year, Jordan Addison had cemented himself as one of the best, if not the top, wide receiver in college football. Compiling 100 receptions, 1,593 yards, 17 touchdowns alongside the Biletnikoff Award will bring that kind of praise, especially for a wide receiver at Pittsburgh. The Panthers are fine, but you're dreaming if you believe they're among college football's elite, or in any tier near that. And with the transfer portal, it was never easier for Addison to level up. The not-so-under-the-table recruitment by USC head coach Lincoln Riley to bring Addison to Los Angeles happened with Hollywood red carpet NIL package to go along with it.
Is Brock Purdy the most relevant Mr. Irrelevant of all time?
Addison's NFL draft stock remains steady
Addison is now a little more than three weeks away from hearing his name called during the first round of the NFL Draft. Even if he transferred to Division-III Juniata, who went 0-10 in 2022 and gave up the most points among D-III's winless squads, Addison would still be one of the first 32 names called to the pros. Statistically, his one season as a Trojan wasn't nearly as productive, only hauling in 59 catches for 875 yards and eight touchdowns. Addison was a big fish in an aquarium instead of a king salmon in a bathtub. His quarterback, Caleb Williams, won the Heisman Trophy. The question remains, did the move from the East Coast to the West Coast actually benefit Addison's draft stock? If it did, it's clear he didn't shoot up any draft boards.

The indifference in answering that question is a direct cause of Addison's dip in production, one that was expected by sharing the ball with other elite playmakers on USC and an increased focus from opponents on taking him away. The talent at defensive back is about the same in the Pac-12 as the ACC, better than the Big 12, but not as good as the SEC or Big Ten. At 5-foot-11, 173 pounds, Addison's size always would've made him more of a slot receiver at the next level, so that won't affect his draft stock. Everyone's looking for the next Tyreek Hill. And Addison is the best shot of that in this draft.

According to ESPN's draft projection, Addison is the second-best wide receiver in the draft behind TCU's Quentin Johnston, and is one of four projected to be selected in the first round — with Ohio State's Jaxon Smith-Njigba and Boston College's Zay Flowers rounding out the group. Johnston's rise was a huge part of the reason the Horned Frogs reached the national title game. As the favorite target of Heisman finalist Max Duggan, he torched Big 12 defenses all year long. Smith-Njigba played with Marvin Harrison Jr. and still found ways to stand out, while Flowers was on a team that didn't make a bowl game. College precedence does have an effect on draft stock, but is likely to impact Addison the least out of the top group of pass-catchers.

Did the move west matter?
The most underrated part of Addison's move from Pitt to USC was that he took a chance. He probably would've dominated at Heinz Field again and might've contended for the Biletnikoff again. It would've made him seem stagnant beyond 2022. though. The drastic drop in production doesn't look appealing and NFL scouts should care about that. It's not hard to imagine some putting zero weight on that factor. What they saw on tape, at the NFL Combine, and at workouts about how he fits into an NFL offense that won't cater to just his abilities ever, matters much more. And he was anointed a prospect with unteachable qualities that'll make him successful in the NFL during the fall of 2021. And he's done nothing to change that, only adding the sexiness of USC to his resume. I love Primanti Bros. as much as anyone, but Pittsburgh is nowhere near as attractive.

Sitting at No. 15 on ESPN's draft board is a precarious place to be. Addison could rise into the top 10 or drop into the mid-20s. Both are well within reach. And that means he didn't vault himself into rare air with his year at USC and become one of the highest-drafted wide receivers of the last several years, like Amari Cooper and Sammy Watkins. Nothing Addison did under Riley's watch made him fumble that bag. If anything, it's a success that he didn't stumble as plenty can go wrong in an 11-month span. If he's still around at No. 18, pairing Addison up with Jameson Williams and Amon-Ra St. Brown with the Lions? That looks like a stout trio that should vault Detroit back to the postseason.