Jose Bautista spent a month earlier this season playing DH because his shoulder hurt so badly that he couldn't throw. After tonight, it's safe to say Bautista is fully recovered.
Up 3-2 on the Blue Jays in the ninth, Yankees outfielder Chris Young decided to test Bautista on a fly out to medium-deep right. Nothing but a perfect throw would've nailed Young; unfortunately for him, that's exactly what Bautista threw.
Young knew firsthand why he shouldn't have challenged Bautista. Two innings earlier teammate Dustin Ackley tried to go first to third on a single to right field. Bautista played the hop off the turf perfectly, quickly pivoted, and fired to third. The throw was high, but most importantly had enough power to get there before Ackley:
G/O Media may get a commission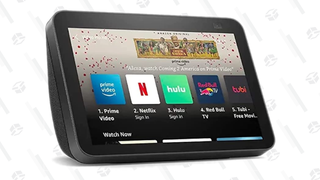 In the 10th inning, the Yankees finally figured out how to beat Bautista. With two on and nobody out, Greg Bird didn't give Bautista a chance to throw anybody out. He hit the ball to right field, but over the fence for a three-run homer. Not even Bautista can nab a runner from there.
We think.
---
E-mail: kevin.draper@deadspin.com | PGP key + fingerprint | DM: @kevinmdraper